DUSTEROID (Tyrannosonor) CD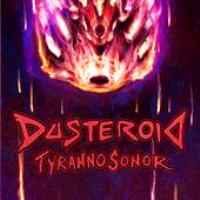 It's six years ago when Cosmic Lava received the first album 'Albedo Zero' from UK's DUSTEROID. Like so many other bands, DUSTEROID follow in the footsteps of bands like Orange Goblin, Clutch and Kyuss, without having an own musical profile. Well, ok, others don't have that, too, but at least you should write some songs with high recognition value. Unfortunately they have also failed in this field. At least, that was my analysis of the former situation. Due to this I was really skeptical when I received DUSTEROID's second self-financed album 'Tyrannosonor', but after the first minutes of the opener 'Defy' my scepticism has been blown away. The band's musical orientation is still the same: heavy groove-ridden rock which is based on blues. However, they have notably improved their songwriting skills.
'Tomahawk Storm Troopers' has a cool bluesy 1970's touch and goes seamlessly into 'Whiskey Overdose' that grooves like hell. Ok, the lyrics are a bit silly here, but if I listen to music like this I don't care about it. This album is made for your next party and nothing else. DUSTEROID is simply your backyard boozed up rock 'n' roll band what should not be seen as criticism. 'Imprisonment' is significantly darker and shows a different emotional side of their sound, but it never drags you down. Another highlight is 'Holy Sin' where the band reveals their southern rock influences. The vocals of guitarist Dimitris Blanos have a warm, rough timbre that is eminently suitable to the overall sound. Even the production is exceptionally powerful and very transparent. Also noteworthy is the packaging of 'Tyrannosonor' which is a multi panel fold out cardboard sleeve with excellent artwork. DUSTEROID provide you with the soundtrack for the upcoming summer 2010 and it is most definitely not wrong to get a copy of this very entertaining album.
(KK)