DUST (Reblown) MCD-R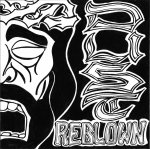 This is the latest demo from German doom band DUST, recorded in early 2005 and after a period of inactivity in 2004, the band is back with a new five song slab of brute and raw heaviness. While the music is influenced by the usual suspects like Black Sabbath, Saint Vitus or Entombed, the brutal vocals would fit to every potent heavy sludge band. So one can imagine, that DUST have not much in common with creamy grooves and sweet melodies. Like a bulldozer, both guitars are pushing everything aside, and are, of course, extremely distorted and downtuned. Here and there, the melodic solo guitarwork, drenched in several effects, builds a nice contrast to the massive wall-of-sound, and adds a nice 70's rock vibe to the compositions.
While the first four songs are ranging from snail-paced doom to mid-tempo doom , the last cut "Fools" seems to be DUST's noisy interpretation of mid-80's thrash metal. It's needless to say, that DUST don't cover new musical ground, but they are one of the very few German bands, who are playing such an intense and uncompromising ultra-heavy sound. Of course, DUST are not the best choice, if you want to calm down, but always nice for the alcohol- and weed-fueled hours. And due to the reason, that this band is around since 1998, I guess it's time for the debut album, because they have done a promising step with "Reblown".
(KK)