DUST (Distortion Empire) LP/CD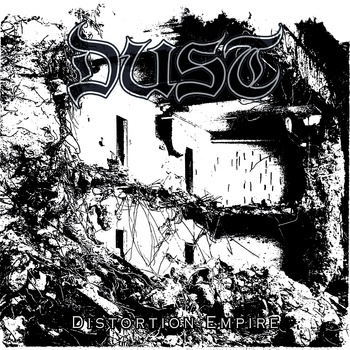 Dust is a well-known name in the German Doom scene. The guys are around since 1998, that makes 14 years of "Psychoaggressive Doom" as they call it, and lots of shows made me wonder, that this years 'Distortion Empire' is just their third full-length. Dust stands for heavy Doom and Sludge tunes (at least in the second half of their band history) and that's what you get with the new record.
'Distortion Empire' starts off with a long intro and monolithic heavy parts, that mostly dominate the whole album, although exceptions must be made, because sometimes the old school Black Sabbath and Heavy 70's influences break through, e.g. in the beginning of 'Smell the Burning' or the huge 'Contact', which adds a nice variety to the album. The vocals are raw and common Sludge stuff, although I had to think of Beaten Back to Pure at more than one point, to give you an impression. But there is some variety here, too.
In 'Dying To Be' (for me a real neckbreaker) Olli Karic uses his voice for some nearly clean singing, which works out very nice as a welcome contrast to the sometimes monotonous shouting. In the end, 'Distortion Empire' turns out to be a very good album with some real hits, that make you want to get a ticket and hear it live and loud. The sound is always pressing and bass accentuated, what seems to be necessary for this kind of music – and if you follow the instructions on the backcover and play it real loud, it will make you smile at more than one occasion.
(Thomas Braun)