DRAGONTEARS (Turn On Tune In Fuck Off!!) LP/CD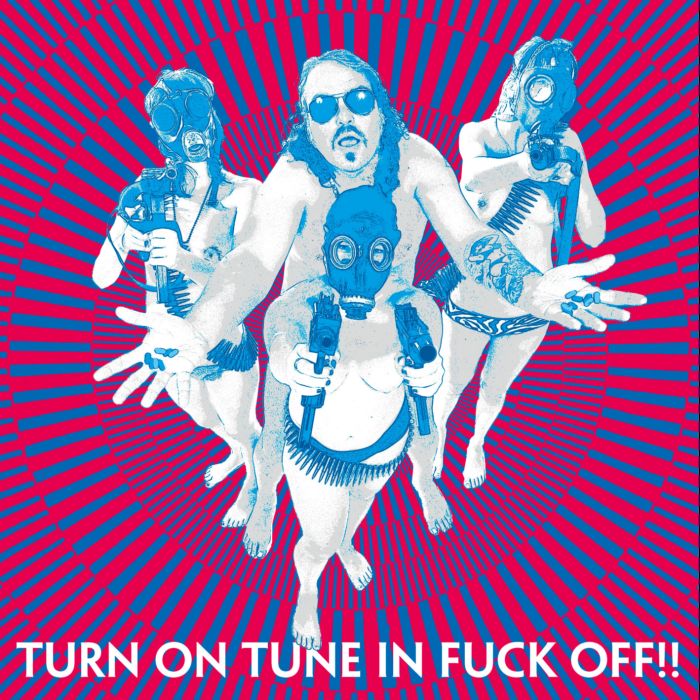 Wow, what a cover! This is definitely the funniest and most original artwork that I have seen in 2010 and I can only hope that Bad Afro Records or DRAGONTEARS will use it for a shirt design. Here is the first customer! Quite apart from the packaging, the third album from DRAGONTEARS is certainly one of the psychedelic highlights of this year. This time, Lorenzo Woodrose and crew focuses on less folk-influenced songs and there are no blissful psychedelic jams as on the last record 'Tambourine Freak Machine'. But that all is no problem, because each DRAGONTEARS album revealed another facet of L. Woodrose's huge creative potential.
Compared to its predecessor,' Turn On Tune In Fuck Off!!' is pretty straightforward, but it is not simple, there is a real complexity and understanding of music in all six songs. DRAGONTEARS have their own style and their songs have their own styles individually. The album kicks off with 'Two Tongue Talk', a heavy up-tempo track that is trippy as hell. It's packed with reverb-drenched guitars, swirling organ sounds and everything else that gives you the feeling as if you have spend a night on a meadow full of magic mushrooms. 'No Salvation' would also fit on the last Baby Woodrose album, even if the guitars plays only a subordinate role within this tune. The lyrics deal with the religious madness in present time, and it would not be a bad idea for all fundamentalists to listen to this great song.
Next comes 'My Friend', a gorgeous acoustic number that would have fit really well with the last album. 'Time Of No Time' reminds me of the psychedelic era of The Beatles but DRAGONTEARS are of course considerably more psychedelic. This will be followed by 'William' which clocks in at almost 14 minutes. There's a parallel to 'We Will Fall', because it unfurls the same irresistible hypnotic power as the song from The Stooges. The album ends with 'Mennesketvilling' that has the same mesmerizing effect on the listener like 'Willian' and it is also sung in Danish language as well as the track before. 'Turn On Tune In Fuck Off!!' is the final chapter of the DRAGONTEARS trilogy (exactly as Lorenzo's Pandemonica trilogy) and is, as already stated, a magnificent psychedelic rock album. Buy and get high!
(KK)
www.myspace.com/dragontears2000