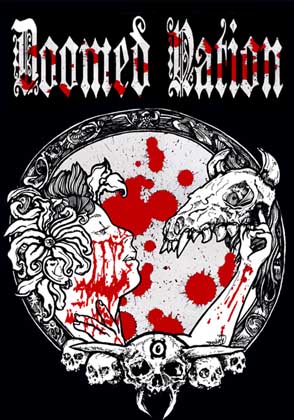 I'm not sure, how familiar the name Tom Denney is to the readers of the Cosmic Lava, but I like to give you a small introduction into his comprehensive work. During the past years he gained an excellent reputation for his brilliant art that covers concert poster, website layout, video clips, shirt-design, and much more. Here we have one of his latest projects - the stunning DOOMED NATION videozine!!! I'm glad about the selection of the here featured bands, who have nothing in common with epic styled power doom or stuff like that. Here we are more on the sicker, bluesier and/or political side of the coin and you can watch and listen to the heavy soundz of FISTULA, THE HIDDEN HAND, SLEEP, RWAKE, -16-, JUMBO'S KILLCRANE, INDIAN, BURIED AT SEA, SMOKE, SEPULTURA, UNCURBED, and SOURVEIN.
For nearly every band, Tom Denney had created a very personal clip and between the songs are short hypnotic visual arrangements that can only be described with the phrase mind-blowing. Mostly, the clips are an inspiring mixture of live footage and scenes, that are taken from exploitation movies, news magazines, documentaries or some sort of psychedelic images. It's not fair to pick out single clips here, because DOOMED NATION is a complete visual experience, but I like to give you a few examples. Absolutely awesome is the rare SLEEP clip, who shows the band in their rehearsel space, performing "Dragonaut". It's completely filmed in b/w and looks as if it was shot in 1970. I don't know, from where Tom Denney had exhumed this gem (maybe Earache), but for me it's one of the highlights here. THE HIDDEN HAND clip is a collage, consisting of scenes from George W. Bush and the Iraq-war, that overlaps with some live scenes from the band.
At least, I like to mention the SOURVEIN video, that has also been shot in the band's rehearsel space. Everything is wrapped up in earthy colours and psychedelic structures for great visual entertainment. If you're looking for interviews or party-scenes, you won't find any here. Only Matt Pike talks a very few seconds about his time in SLEEP and a political author gives the advice to join the US election day. But the biggest surprise comes at the end of DOOMED NATION! I think, Tom Denney is a great SEPULTURA fan because I have no other explanation for adding the "Arise" clip to this DVD. For my taste, this is the only low point here, but as so often it depends on the personal musical taste, but I still wonder why he didn't select something heavier and more interesting here. Anway, this DVD is an entertaining and ambitious piece of work with a total running time of one hour and I give you the advice to order your copy now!
(KK)