DIRT COMMUNION (Antique Mechanic) CD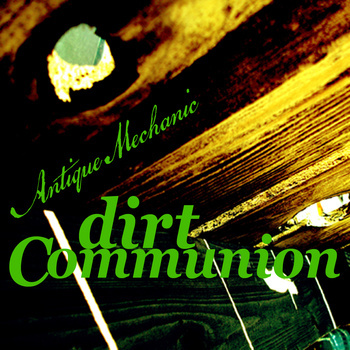 DIRT COMMUNION comes from the city of Reno, Nevada, and damn you hear them comin'! They offer a really heavy stomping beast with their 2010 album 'Antique Mechanic'! Often described as 'stoner doom', I would rather describe them as 70s-based southern metal. Their sound is much more modern than the usual slab of stoner rock, it's dense and compressed, bringing ever instrument forth to the ultimate heavy effect. While you don't get the "retro" in their sound, you'll find it definitely in their riffs. Taking massive influence from the heroes from the 70s, guitarists Eric Stangeland and Tony Ashworth do a great job in pulling off the palm-muted-metal-riffs-meet-bluesy-melodies-stuff.
Sometimes they take the easy way by relying on a well-known riff like in 'Rebuilt For Speed', which took a really short trip through the 'Hole In The Sky'! But who cares if you get your favourite riffs incorporated so well into really catchy songs like the aforementioned 'Rebuilt…' or 'Trip To The Slaughterhouse'? Definitely not me! And there are enough bluesy solos and licks everywhere to give the heavy riffing a somehow up-beat feeling. We also get some relaxed and melancholy moments to vary the heaviness as in the melodic 'Mulhollands Curse'. While the guitars are responsible for the gritty distortion, the bass of Dan Bishop comes through quite clean and thickens everything from below. Drummer Logan Spurling really has swift feet and adds a good slice of metal to southern-tinged compositions like 'The Freaks Are Taking Over' or 'Bombed', which features nice harmony guitars on the melodic interlude 'Last Call'.
Above this heavy blend of distortion and groove soars the slightly rough voice of Mark Earnest who does a great job by adding extra melodies with his vocals. He does resist the temptation to accompany the music with screaming or the well-known macho growling. Instead he varies nicely with his mid-ranged voice, sometimes his timbre reminds me of Pepper Keenan or even Mickey Heppner of PRIESTESS, although he sings in a lower register. Pepper Keenan's band CORROSION OF CONFORMITY might be a good reference if you want to read a well-known name here to compare DIRT COMMUNION to. 'Antique Mechanic' is a very entertaining album with a superb sound and great songs.
At first I was a bit driven off by the modern "metal" production, but if you give the album a second spin you can't escape the catchiness of songs like the lively 'Gone' or 'Trapdoor Into Hell' (which I think is a real little gem in all it's simpleness). A great record of bluesy, southern metal with a fine amount of 'stoner' grooves. There, I used the word, too. Now give these guys a listen and go figure out where I avoided the term on purpose!
(Steve Albino)