DIMENTIANON (Collapse The Void) CD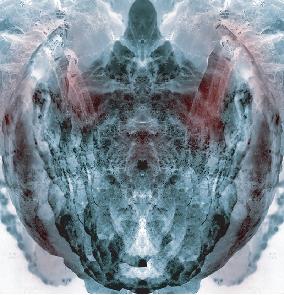 With 'Collapse The Void' you can expect a furious EP full of grim music. Fast Black Metal riffs beat on the listener - death/doom-like midtempo passages form the framework that will sweep the listener away. The voice of bandleader 'M' is often slow, but always raw and Death Metal-styled with a threatening intonation, while guitars and drums push things ahead in a faster Black Metal pace. DIMENTIANON has been in existence since 1995, but only since 2002 under this name. Also there have been changes in the make-up of the band - 'M' is the only remaining member of the lineup from the last album.
Due to the departure of lead guitarist Joe (Joseph J. Fogarazzo) who joined Funeral Doomsters RIGOR SARDONICUS, I would have expected a musical change towards Black Metal, but fortunately that did not prove itself to be true. Their mix of Black Metal and Death/Doom has been retained - an evil concoction has arosen that leaves room for conciliatory tones ('Fragmented Nostalgia'), but only in some places. This is a very good EP and I would recommend it to anyone who can delve into gloomy music.
(Blaue Nacht)