DIAGONAL (The Second Mechanism) LP/CD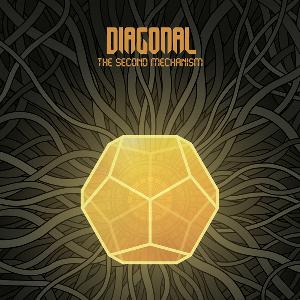 Okay. Okaaaaay. Okay. I have no clue what to expect from this new release by Diagonal. I had not consciously come across that band and with them being on Rise Above Recrods, I might have thought they play Stoner or Retro Rock maybe. But I was not prepared for that. And after the first sonic vibes reached my ear I forgot totally about what I expected. This is surely Retro. This sounds warm and great like a good production from 1974. And the music does, too. Oh this music, this is Prog Rock. Not like in Proggish Rock music. I mean real Prog stuff. The wicked way that is not for everybody out there. The Kraut Rock and Space Rock way. You gotta love synths and brass and all that to get into this. If you cannot live with the extensive use of either or both, if you need a lot of heavy riffing and stuff, you should not read any further. This is nothing for you.
If you love King Crimson and maybe even Bohren & Der Club Of Gore you do not necessarily read further either if... and I really mean only if you already put on your shoes to run to the next record store to buy this release on either CD or better vinyl. The band has a lot going on to explore during the 43 minutes of this sonic journey. Be it a voyage to space, a trip through a dark alley at night in an old black and white horror flick or just laying there, staring at the sky.
There is a lot of mood changes within each of the 5 songs going down well with the sometimes jazzy nature of the deliverance. The bands melodic instrumentalists mainly focus on riffs and melodies. I miss total freak out solos a little. But with so much going on, that is not so bad at all. Vocals are more a rare gimmick and sometimes even are content with backing choirs to some melody. As my knowledge of the current Prog Rock scene is not very well I can't tell you were the guys stand right now. But from my perspective as a listener I can tell you that I had and will have a really enjoyable time listening to 'The Second Mechanism'.
(Thorsten Frahling)