DEVILLE (Come Heavy Sleep) CD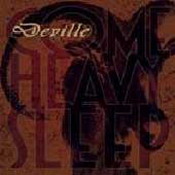 I remember this Swedish band from their split-CD with Sergej The Freak, that was released on Daredevil Records at the end of 2005. Their sound was strongly inspired from Queens Of The Stone Age, although they've set their own musical accents within their accessible sound. A few years later DEVILLE signed with Buzzville Records and here we have the group's first full-length, which has been released in February 2008. I'm surprised by the band's successful development, because they have carved out their own identity over the last three years. 'Come Heavy Sleep' has not very much in common with Queens Of The Stone Age and I'm very happy about this. DEVILLE still can write very catchy songs if necessary, but in comparison to the split release the new material is much darker and more melancholic, without being tearful. The instrumental 'Black Dawn' is only one good example for this interesting musical progression and it makes the difference to the usual heavy rock bands, who only write about the usual topics like smoking weed or hot women.
Most of the here included thirteen songs consist of interesting arrangements that don't always use the well-known rock 'n' roll patterns, and maybe will surprise a few listeners who expect only the next typical heavy rock album. Andreas Bengtsson owns a pleasant unobstrusive voice that sounds very authentic, but also the other three guys are talented and trained craftsmen. The result of their abilities is that 'Come Heavy Sleep' is a very cohesive and varied album, which contains more than only a few high points. It's moody, groove-driven, hypnotic, utterly unpredictable and it really deserves to be called an album, not only because of the intro and outro. The earthy and transparent production emphasize the heaviness of DEVILLE's sound and I never thought, that I would really like this band so much as I do it now. 'Come Heavy Sleep' will stand international competition and should be bought from everyone, who's looking for high-quality heavy rock.
(KK)