DEMONICAL (Death Infernal) LP/CD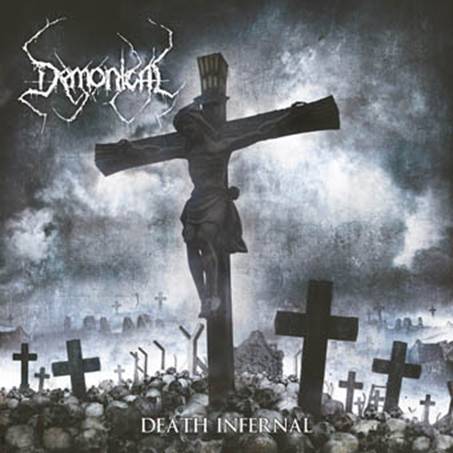 After six years of brutality, DEMONICAL have built a solid reputation for themselves thanks to their unrelenting, bone-crushing brand of Swedish death metal. 'Death Infernal' is the band's third album and it is packed to the brim with tasty ingredients; this is heavy-as-a-sack-of-anvils old school death metal with lots of groove and power. The album almost sounds as if it has been recorded in the legendary Sunlight Studios and that is definitely a strong point in my book. DEMONICAL are not a band afraid to wear their influences on their sleeves, and some of the riffs and lead sections remind me of Entombed, Desultory and Unleashed without degenerating into a bloodless imitation. The way that each track was written put such focus and emphasis on the value of great riffs and how they could be arranged to sound vaguely familiar, yet completely fresh.
And on top of all that, tuning down their guitars added to the immense weight and jarring intensity of every sadistic cut. The tormented growls spewing phrases of aggression; pounding rhythms and crunchy buzzsaw riffs all come together for one heavy, adrenaline pumping experience. These songs are both vicious and beautiful, with melodies soaring above the abrasive riffs, while the entire entity of their music offers more of a sense of clarity in a way that the music is actually going somewhere, instead of just throwing in random speed riffs to hold the songs together. DEMONICAL know how to pace and structure their songs, creating a carefully crafted dynamic.
There's enough depth and melody to pull the listener in while still being brutal as ever. The band's precision and musical mastery are pretty damn close to utter perfection, and even the massive vocals of Sverker Widgren are excellent, because it's not the typical infamous "cookie monster" growl. One thing is certain; With bands like DEMONICAL, I won't lose my interest in death metal. 'Death Infernal' is an album that has brilliantly succeeded in building a bridge between tradition and innovation. If you're seeking for a new musical injection of rawness, darkness, depth and filth-encrusted death metal - get that record instead. Hint: The limited digipack edition contains two bonustracks, which are both indispensable.
(KK)