DEATH ROW (Alive In Death) 2LP/2CD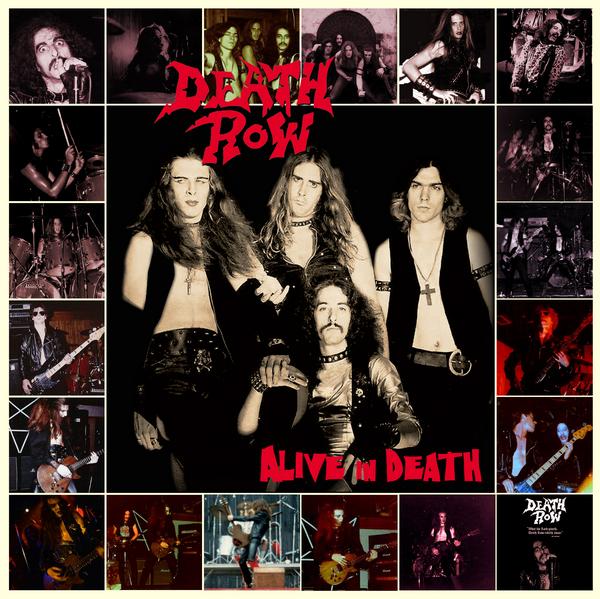 Finally Black Widow Records allows insight into one of the most interesting and almost forgotten chapters of US-Doom history. 'Alive In Death' is a strong, historic album packed with previously unreleased recordings from the band who later changed their name into Pentagram. Nine years ago, Game Two Records released the 'Death Is Alive: 1981 - 1985' LP, but the sound quality was really awful. Fortunately, Black Widow Records have made a great effort so that the quality of the here included material is much better. But firstly some more about the history of DEATH ROW. It was in the late 70's when Victor Griffin (Place Of Skulls) and bass player Lee Abney (Place Of Skulls) decided to form a band that was influenced by the likes of Black Sabbath, Kiss, Steppenwolf and The Alice Cooper Group. It did not take long until Victor Griffin met drummer Joe Hasselvander (ex-Pentagram) and in 1981 the band recorded their first demo, but they were still looking for a vocalist. At some point, Bobby Liebling's (ex-Pentagram) name came up and after the first rehearsels, Victor Griffin and Lee Abney were convinced by Liebling's talent.
After Lee Abney left the band Marty Swaney (ex-Pentagram) joined DEATH ROW and the band played their first shows in 1982. By 1983, DEATH ROW would continue on over they years as Pentagram, but 'Alive In Death' again makes clear that there was a big difference between Pentagram and DEATH ROW. Pentagram was more or less a typical 70's rock band drawing on influences from The Stooges, The Yardbirds, Black Sabbath, 13th Floor Elevators etc., but DEATH ROW was a real doom metal band with a pitch black sound. Just listen to 'Alive In Death' or the first three records ('s/t', 'Day of Reckoning', 'Be Forwarned'), which are selled under the name Pentagram and you can hear the difference. The album starts with a live show that was recorded in Knoxville, TN at September 3, 1982 and I can promise that this concert is a monster. Victor Griffin's guitar sound can only be described as brutal and extremely heavy. The band was a tight unit and the set list consisted in the main of DEATH ROW songs such as 'The Deist', 'All Your Sins', 'Evil Seed', and 'The Ghoul' but, of course, there's also an old Pentagram song ('Run My Course'). 'Commited to Vengeance' and 'Through the Shadow' are previously unreleased songs and they are just as great as the well-known tracks. It is worth to buy this album only due to this live show.
And then there's another live recording of 'The Ghoul' from March 4, 1983, shortly before Joe Hasselvander left the band and was replaced by Stuart Rose who stayed with DEATH ROW until 1988. The last song is 'The World will Love Again' which was also recorded in 1983 during a rehearsal. It continues with disc two which include the aforementioned first DEATH ROW jam in 1981. Apart from the first original songs 'Death Row', 'Dying World', and 'Sinister' the band played three Black Sabbath cover songs ('War Pigs', 'N.I.B.', 'Into the Void') and, although each song is instrumental it's very exciting to listen to this super rare recordings. It's almost unnecessary to talk about the musical skills, because they were on a high level even at this early stage. At the end there's a three song demo from 1983, including 'Whore', 'The World will Love Again' and 'Madman'. Furthermore 'Alive In Death' contains a lot of rare photos from the old days as well as highly informative liner notes written by Victor Griffin and Joe Hasselvander. For me personally this is one of the most important releases in 2009. A must-buy for fans and people with good taste. I'm thrilled!
(KK)
www.myspace.com/thedeathrowarchives