DEAD MAN (Euphoria) LP/CD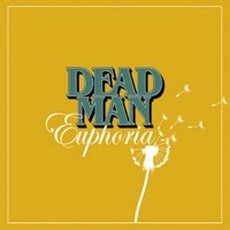 I'm surprised again and again, how much bands have arisen out of the ash of Norrsken. There's Witchcraft, the most popular, then Graveyard and DEAD MAN whose sole common denominator to the other two bands is their love for the 60's and 70's, but that's all. You won't hear a lot of distorted guitars on 'Euphoria', because DEAD MAN is more at home in the territory of psychedelic folk rock. This is their second album, that has been released in 2008 through the Swedish label Crusher Records. When I listen to the album for the first time, I didn't like it so much, but in the meantime my opinion has completely changed and now I really like it. It's very astounding how much effort the band made with their detailed compostions. The instrumentation is comprehensive and so one can hear alongside guitar, bass, drums and vocals also mandolin, lap steel, organ, flute and violin. All arrangements and the execution is flawless, whereas DEAD MAN is always successful in creating a great spirit that contains very often melancholic undertones. Especially this slight darkness is something I like about 'Euphoria', although this could be the perfect soundtrack for the summer 2008, too.
But this album would also fit to the next autumnal walk in your forest. As a result of the varied tracks the album remains always a diverting enjoyment. Here's 'From A Window', a short acoustic interlude, before DEAD MAN strike more psychedelic and heavier tones in 'Light Vast Corridors'. 'The Wheel' begins very quiet and grows slowly until the unique vibrato-vocals comes into the song. This is one of the few moments, where DEAD MAN use distorted guitars and become heavy. Because of the flute this track reminds to early Jethro Tull and it's an outstanding song. Another one I really like is the progressive 'Rest In Peace', that starts jazzy before it changes more towards early Black Sabbath and shortly after there are a lot of psychedelic and oriental elements. The song closes with its primary musical subject and also here the band prove their keen sense for dynamics and dramatic art. Due to the authentic production one could think that this is an obscure gem from 1968, and finally it should be made clear that this is an excellent album. Everyone who loves good music should have a listen.
(KK)