DAWN OF WINTER (The Peaceful Dead) CD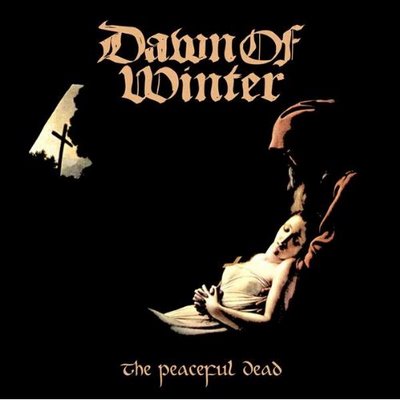 I was never a big fan of Germany's DAWN OF WINTER. Well, I appreciate the fact that they've been around since 1990, but Gerrit Philipp Mutz dramatic vocal style is the main reason why my interest was held in bounds. At its best, Mutz comes close to Scott Reagers (ex-Saint Vitus) but these moments are very rare. Meanwhile it's already eleven years ago since the latest album 'In The Valley of Tears'. They work slow, but we need to remember that in between there was a 12" named 'Slow is the Suffering' and the 'Doomcult Performance' compilation in 2003. Five years later 'The Peaceful Dead' is the second full-length in the ninteen year history of the band. This is the US-version of the album, released in 2009 by Shadow Kingdom Records. As in the past, DAWN OF WINTER fulfill almost all doom metal clichés. Especially most of the lyrics revolve around depression, sadness, loneliness and occultism. Things could be a bit more diversified as far as I am concerned.
An exception is the opener 'The Music of Despair' which is a declaration of love for the band's favourite doom metal acts. Nice idea, but they lyrics can't be taken seriously. At least, I can't. There are lines like "Doom is the soul of metal" and "Doom is the true essence of living" that make me laugh. C'mon guys... take a break. Despite the fact that DAWN OF WINTER overdoing it there, 'The Peaceful Dead' is their best effort so far. Finally there's a surprisingly fast-paced track ('Burn Another Sinner') and 'Throne of Isolation' has a great emotional melodic line. Even Mutz did a very good job. In my opinion, this is one of their best songs and I must confess that I would never have expected something like this from the band. Otherwise it's the standard fare: doom with an emphasis on metal. A couple of slow songs enriched and lightened by occasional mid-tempo parts. The production is sharp, clean and well mixed. The guitars have a sharp edge, the drums have a crisp snap, the vocals are pathetic and right in front of you. As I have already said, DAWN OF WINTER will never become one of my favourite doom metal bands, but their new album is surprisingly good.
(KK)