DARSOMBRA (Eternal Jewel) CD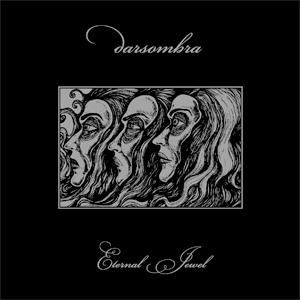 This time the small US-underground label Public Guilt is responsible for the second album of DARSOMBRA, after they already released a 3" CD-R from this one-man band in 2007. The man behind this well-sounding moniker is Brian Daniloski, who was also part of the line-up in bands like Meatjack, Trephine and Suckpig. In comparison with this bands he focuse his attention more on psychedelic, experimental music and he managed successful to create a real thrilling album, that includes five songs with a running time between 3 and 18 minutes. 'Eternal Jewel' is dark, mysterious ambient music, which can be very heavy at times and a song like the opener 'Auguries' have also a strange medieval vibe.
Some of the tracks are improvised, what fits really good to the character and structure of the tracks. Mostly here are no breaks between the songs, so that the listener is surrounded by one big sonic stream. Like a spider Brian Daniloski is weaving a net around the listener that consists of different sounds and effects, while the loops can cause some kind of subtle rhythm.
One of my favourite moments of this album is 'Lamentings/Auguries', due to the interesting contrast between the trippy keyboard sounds and the occasional guitar-sounds Somehow this is sonic architecture and it's a bit sad, that this track is over after only five minutes. 'Eternal Jewel' is a work of intense passion and guarded intimacy that simply hypnotizes the listener like a rattlesnake. The packaging for this release is simply awesome and totally fits to this outstanding release.
(KK)