DARSOMBRA (Climax Community) LP/CD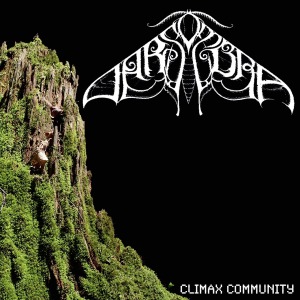 When I looked at the cover artwork of 'Climax Community', I thought that Exile On Mainstream Records has released the first black metal album, but after looking at the info sheet I realized that this is the new album of DARSOMBRA. I remembered that I already wrote a review about the last full-length 'Eternal Jewel' and that was four years ago. Much has happened since then. First of all, Brian Daniloski (the man behind DARSOMBRA) walked away from Public Guilt Records. Next he teamed up with video artist Ann Everton, because 'Climax Community' is an audiovisual project. In brief, this means that there is a video for each of the three songs (including an endless groove on both sides of the vinyl) that should definitely be watched while listening to the music. In this fast-moving age I cam imagine that this will discourage some people. I, on the other hand, welcome that since the videos are done very well.
However, the most important factor is the music. As before, Brian Daniloski has detached himself from a rock/metal context. DARSOMBRA brings together elements from different sources as there are: ambient, psychedelica, krautrock and experimental music. The result is hippie-esque (in a good sense of the word) and mesmerizing, but sometimes also a little bit too soporific. This applies especially to parts of 'Roaming The Periphery'. Maybe I should take some good LSD-25 to discover more, but I believe there will not be any changes. I much prefer the second song 'Green' that is based completely on acoustic guitar, but I also like the 18-minutes long 'Thunder Thighs' that gives me a feeling as if I would take a walk through Nyenchen Tanglha (a mountain range in China).
The above-mentioned opening track 'Roaming The Periphery' is another epic opus, which unfolds a spiritual and otherworldly atmosphere, even though it's in places too longwinded. It was a good idea to chose a cover artwork with a mountain, because 'Climay Community' comes to me like an ode to the power of nature. Therefore it is not surprising that there is no singing, because that would only disturb the meditative atmosphere of the music. DARSOMBRA offers contemplative inducement and generous freedom for your thoughts and dreams, even if you're watching the videos. It should be clear that 'Climax Community' is only for an open-minded minority of people, but those will surely appreciate it.
(KK)