V.A. (Cowbells & Cobwebs) 2CD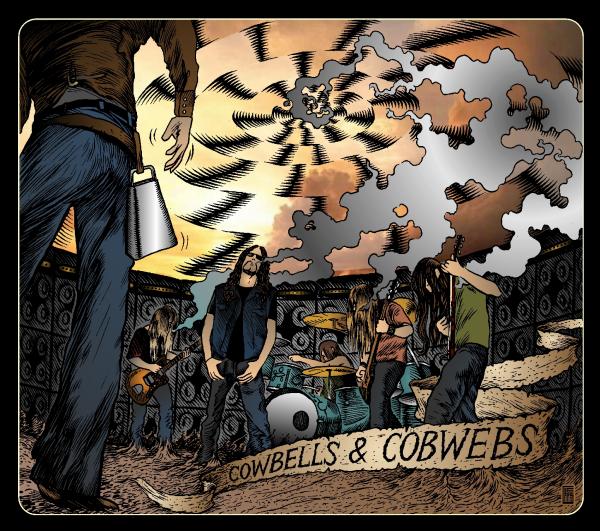 To be honest, only a handful of stoner/heavy rock compilations are particularly worth releasing. Up until now, there are only a few that have been put together with a wealth of ideas, especially those who include a lot of unknown bands and/or unknown songs from well-known bands. Compilations that come to my mind are 'Welcome To MeteorCity', 'Doom Capital', 'Judge Not...' or 'Sucking The 70's Vol.I & II', just to give a few examples. That is the way to do it! 'Cowbells & Cobwebs' offers the same level of quality, like the ones which I mentioned before. At the same time, it's also the first Planetfuzz Records release and perhaps you have noticed this name before, because these are the same guys who are running the PlanetFuzz webzine. It is good to see that there is still a vital community in Australia and I hope that their record label will continue to grow. But whatever happens, 'Cowbells & Cobwebs' is a pretty impressive start because it features 28 mostly unknown heavy rock bands from all over the world with a total of 28 tracks; most of them are previously unreleased. I was pleasantly surprised by the quality of these discs, and actually quite blown away by a couple of songs in particular! Here, everything is about big fat riffs, heavy grooves, and insanely fuzzed-out guitars and bass.
Texas' ORTHODOX FUZZ lay down a fat southern rock groove with plenty of blues and metal while ARROWHEAD please my ears with 'Eagle Death Machine', a killer track with super heavy riffs reminiscent of Sir Lord Baltimore or Mountain. For heaven's sake, I need to hear more from this Australian band! Austria's SONS OF GIANTS also conjure the ghosts of the 1970's, but the Kyuss influence can still be felt strongly. Both have been successfully melted together, so that 'Mr. Woo' is the next highlight for me. MOAB represent with 'Morelore' the doomier end of the heavy rock/metal spectrum and offer great potential. It seems that these Californian guys are a sucker for Yob. Norway's HONCHO is the next positive surprise and I clearly remember when I wrote a review about their debut album 'Corporate Rock', released by Water Dragon Records in 2002. Back then I was not convinced by their standardized heavy fuzz rock. It, is therefore, all the more pleasing that their track 'Earth' is very different from the tunes on the album. Apparently, they have discovered their old Black Sabbath records, because 'Earth' is their doomiest and heaviest tune so far. Well done!
Another outstanding Scandinavian band on 'Cowbells & Cobwebs' is TOMBSTONES, who deliver a mighty blues-driven mid-tempo rocker. Here, too, 1970's heavy rock and metal have been closely intertwined and the result is superb. Netherland's FLOODSTAIN walk in Sixty Watt Shaman's footsteps and manage to set their own marks with 'Slumbering Titan Slayer'. This powerful tracks shows once more that the compilation offers an excellent opportunity for the listener to discover some truly impressive unknown heavy bands. Well ok, I could go and on because the number of killer tracks is simply breathtaking. PROPANE PROPANE from Sweden also belong to this category. 'It's Alright' combines Brant Bjork's coolness with Blue Cheer's mind-blowing heaviness and I can only hope that this band will release their first album as soon as possible. Ok, enough for today or this review will never end. In fact, 'Cowbells & Cobwebs' is a pulverizing killer compilation and if I had to buy it, I would do it immediately. Also worth mentioning is the demanding packaging that is just as tasteful as the included bands. So, if you're a fan of heavy fuzzrock in all facets then this should be on your upcoming shopping list.
(KK)