Crushers Killers Destroyers II CD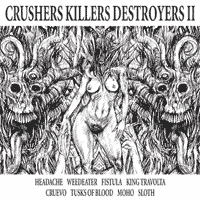 Once again, Shifty Records shows the world with this compilation, why they belong to the best US-labels specialized on heavy sludge, doom and other sorts of extreme heaviness. As on the first issue of "Crushers Killers Destroyers", we find a high-quality selections of songs from more or less-known bands, and, as it should be for a good compilation, all songs are previously unreleased. Another big plus is the variety of the included bands, although the massive and dirty heaviness is something all gangs here are having in common. As usual, FISTULA and SLOTH have done their excellent contributions here, as well as WEEDEATER, who are coming up with two super heavy brutal fuzzed-out cuts, entitled "Turkey Warlock" and "Long Gone", featuring Muleboy of Bongzilla on guitar and vox.
MOHO from Spain, who earned a lot of attention in the underground with their striking debut "20 Unas", are featured here with two tracks, whereby "Charco de Carne" is splited into two parts so that it's listed as three tracks. Especially "Duelo" shows the amazing potential of this Spanish bands, and their high-energetic combination of 70's heavy rock and slow-paced sludge is very promising. Another less-known band here is KING TRAVOLTA, a band which has been formed by members from Fistula and Rue. And trust me, their five included tracks are more than impressive. While "Queers of the Stoner Age" is a nice and cynical parody on Hommme's band, "You call yourself heavy" is a dirt-filled sludge monster which obscure and sinister organ sounds, embedded in an intensive wall of ultra-heavy riffage.
"A mark that last" is the next slow crushing killer, which reminds me to later Grief, while "Leprosy" and "Pigs" are surprising me with black metal and crustcore influences. I hope this guys will release a full-length in the future, because they got much more in store, than other heavy sludge metal bands nowadays. HEADACHE will surely cause some bad headaches for sensitive people, but I dig their super massive slow sound, enriched with harsh vocals and real powerful riffs as they prove it with the opener "Genesis".
Simply awesome! The last two featured bands here are CRUEVO and the now dysfunctional TUSKS OF BLOOD, who have no guitar-player in their line-up, but two bass-player, and play some sort of heavy low-end doom sludge. All in all, "Crushers Killers Destroyers II" contains eighteen tracks and an informative booklet as well as a great layout, illustrated by Scott Stearns, what means that you get a damn fine compilation for your money. Great bands, great music, compiled by (as mentioned above!) one of leading US-underground labels!
(KK)