CRISIS (Armed To The Teeth/Kick It Out) 2CD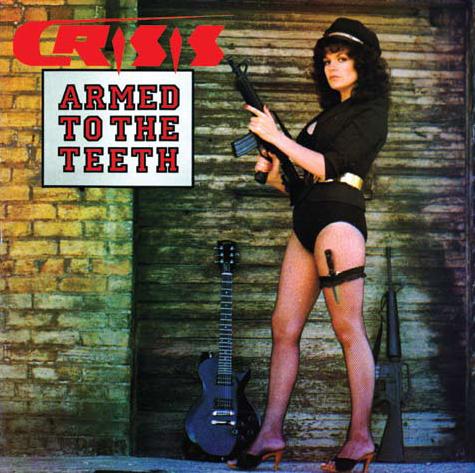 Just take a look at the cover, and you know that it dates back from the 1980's; to put it more precisely, it dates back from 1984. 'Armed To The Teeth' was the debut EP by the US-band CRISIS, which have remained rather unknown till the present day. The extensive re-release of Shadow Kingdom Records could maybe change that, because it contains the already mentioned debut EP as well as the first album 'Kick It Out', which has been released one year later in 1985. Of course as usual with Shadow Kingdom Records, you also get tons of bonus material. There is a second disc with thirteen unreleased tracks and a high-quality booklet with liner notes, photos and more. That's what I call value for money. CRISIS was formed back in 1980 and they were a real powertrio in the true sense of the word. 'Armed To The Teeth' in particular is a powerful high energy package that blurs the lines between punk driven rock 'n' roll and classic heavy metal.
Right from the start, CRISIS put the hammer down with the help of the excellent opener 'Crank It Up'. The title is predestination, because this song rocks so hard, and there's is no other choice but to turn up the volume as loud as possible. Whenever I listen to 'Crank It Up' I feel the strong urge to unpack my air guitar, and mostly that is what I do. Vocalist and bassplayer Dane Thompson has a strong and charismatic voice, which reminds me a little to Sean Harris of Diamond Head. With the exception of Thompson's vocals, 'We're The Boys' could've been taken from an obscure early 1970's heavy rock album, while 'Break In Action' is again not very far removed from proto-punk territory.
Altogether, 'Armed To The Teeth' was an excellent debut that is crammed with irresistible hooklines and an unbridled youthful rock 'n' roll energy. It's no surprise therefore that CRISIS' debut has become a well-sought collector's item over the last decades. Unfortunately, the first full-length 'Kick It Out' is not as powerful as the debut, which is primarily due to the production. The drums are louder than the guitars and it's not easy to discover the bass. Nonetheless, it is a good album, because CRISIS were still able to write aggressive and catchy tracks as, for example, 'Keep Fighting' or 'Kick It Out'. The razor sharp riffs in 'We Come To Rock' are reminiscent of mid-1970's Ted Nugent and it is noticeable that the band was now oriented more towards classic heavy metal and hardrock.
Another great song is 'At Night' that is probably the darkest tune on 'Kick It Out'. If this record had the same production as 'Armed To The Teeth', then it would be a killer metal-infected rock album. Fortunately, the sound quality of the second disc is significantly better, although not every song has convinced me. 'Blue Roses' is a cheesy pop/rock tune with 1950's rock 'n' roll undertones and 'El Camino' sounds like a cheap imitation of the Ramones. For me personally this are the worst tracks on the disc. A sharp contrast to this two songs is 'Dodged Another Bullet', which could be a leftover from the 'Armed To The Teeth' recoding sessions. 'Isn't Easy Being Me' follows along the same line and proves once more that CRISIS haven't lost any of their nasty rock 'n' roll attitude. Of course it is evident that a few of the tracks are a bit outdated, but if you can enjoy good old-fashioned metal like me, then it is no mistake to spend your money for this excellent compilation.
(KK)