COUNT RAVEN (Storm Warning) CD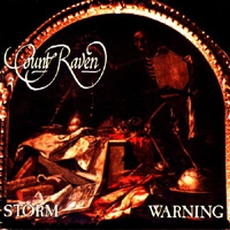 Finally, after all this years Cyclone Empire re-released all four COUNT RAVEN albums, and I'm fucking glad, that they did it, because this four Doom Metal milestones should be available for everyone, who calls themselves a real Doom Metal fan. I could bore you with all my memories, that are connected with every album and the concerts, but I try to focus on the music. I guess, everyone knows, that the original albums have been released on Hellhound Records, and 'Storm Warning' was the first one, which has been released back in 1990. In the late 80's, 'Stormwarning' was the first name of that Swedish band, before they changed it into COUNT RAVEN, and it was the only album, they did record with vocalist Christian Linderson, who later joined Saint Vitus and than Terra Firma. When I listen to the album now after 17 years, it's still a magic masterpiece, without any fillers.
The music is extremely intensive, and heavy as a truckload of solid steel. And the most important fact: this band had the ability to write anthems, that are made for all eternity and will stand the test of time forever. Just listen to the slow and melancholic mourner 'A Devastating Age' or the mighty opener 'Inam Naudemina'; these are just two killer tracks out of nine. In opposite to a few other Doom Metal bands, the lyrics are more about daily frustrations, the fucked-up music buisness or they critize political systems. What I really like about that re-issue are the rare photos of the band in the booklet as well as the liner notes, written by Jochen Fopp (Mirror of Deception/Doom Shall Rise) and COUNT RAVEN-drummer Christer 'Renfield' Pettersson.
I only critize Cyclone Empire for the very less amount of bonus-tracks ('High Beliefs' and 'Frightened Eyes Never Lie'), especially because 'High Beliefs' has already been released on the Hellhound compilation 'What the Hell!'. Apart of that, all my praises goes out the people of Cyclone Empire for doing a great job. I really hope, that especially younger people will now discover the might and power of this timeless masterpiece. Feel your Doom!
(KK)