COUNT RAVEN (Mammon's War) CD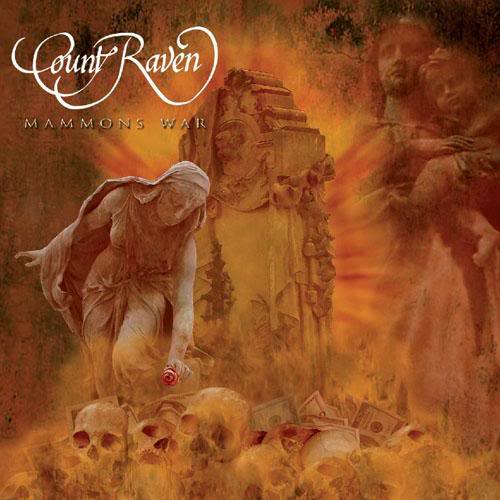 Without a doubt, 'Mammon's War' is a triumphant return of COUNT RAVEN, and my initial scepticism has not proved to be true. Although the band had delivered a wonderful show at the Doom Shall Rise Festival in 2004 I could not image that they were able to record a new album, which can compete with the early masterpieces. Also the last album 'Messiah of Confusion' was no successful farewell due to several reasons. First there is a really strange production and some songs sound terribly weak compared with the old material. Anyway, I still have problems with their fourth album and even after thirteen years nothing has changed at all. However that is now past history and it's about time to take a look to the presence. Meanwhile COUNT RAVEN joined forces with I Hate Records in 2009 and, as has already been pointed out, 'Mammon's War' is a stunning album. Of course, guitarist/vocalist Dan 'Fodde' Fondelius is still part of the band, which seems logical when you consider that he was always the mastermind behind COUNT RAVEN. But there have been surprising changes in the lineup. The old rhythm section, consisting of bassplayer Tommy 'Wilbur' Eriksson and drummer Christer 'Renfield' Petersson, has been replaced by Jens Bock and Frederik Jansson (Abramis Brama, Witchcraft). To some, this may seem a big loss, but I think that it's no drama. Sometimes it is necessary to inject fresh impetus into a band and that has happened here.
'Mammon's War' includes all trademarks of COUNT RAVEN. On the one hand, the album is very emotional without adversely affecting the strength and power of the music. Songs like 'Mammon's War' or 'Increasing Deserts' are in the same style as, for example, 'Cosmos' or 'The Viking Sea'. Keyboards are used as a basis for slightly psychedelia-tinged excursions into later Hawkwind territory while Dan Fondelius' commanding vocal style stands proudly above all. Otherwise COUNT RAVEN is still able to rock out with full intensity. 'The Poltergeist' has convinced me with its intense hooklines, and it's fine that they've re-recorded 'Scream', previously relased on the 'I Am Vengeance' soundtrack in 2001. These are of course not the only top-notch tracks, but I don't want to write a book about this album, so I will be as brief as possible.As usual, some of the lyrics are sociacritical or they reflect personal experiences. There is a lot of anger and disappointment about the current state of our fucked-up society and no boring ramblings about wizards in the woods. The production is simply perfect on 'Mammon's War'. I would say it's comparable to their third album 'High On Infinity'. There is no reason to doubt the superiority of the new album. They show all newcomers how it's done. Those who call themselves doom metal fans need to purchase a copy of this masterpiece as soon as possible.
(KK)
www.myspace.com/countraventheband