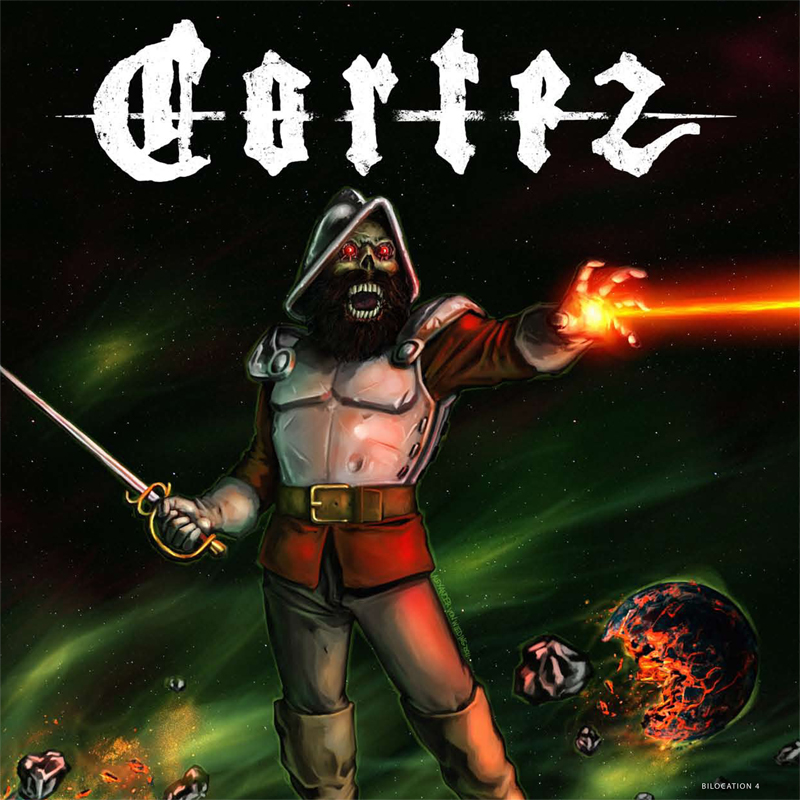 Still fresh in my mind is 'Thunder In A Forgotten Town' (review here), which was the debut MCD of Boston's CORTEZ. That release was more than 4 years ago and thereafter CORTEZ vanished from the scene. Or I just lose sight of them. Such as pity, because I liked their bluesy, groove-laden hard rock and they had written some very good tunes. But sometimes the unexpected happens, which in the case of CORTEZ means that they are back with a new double album, released by Bilocation Records in 2012. This is also the vinyl debut for singer Matt Harrington who joined the band in 2009, but otherwise not much has changed and I am pleased about that. One thing which is immidiately obvious, is the fact, that CORTEZ have been merged into one hard rockin' unit over the last years.
The raspy yet soulful voice of Matt Harrington is a perfect match for the thunderous heavy rock assault, especially since he has a good vocal range. Everything fits together seamlessly and CORTEZ roars through this album with the power of a 71' Dodge Charger. Even in their quieter, emotive moments, this four guys are bursting with energy. The crunchy riffs are soaked with fuzz and sweat, but great value is also placed on songs that are straight to the point with catchy hooklines and forceful grooves. Blues, metal and 1970's heavy rock are an equal part in CORTEZ' tasteful blend, and they succeed in creating a varied record that never runs out of good ideas. They go from an aggressive rockers like 'All Hail' to slower more melancholic songs like 'Wormwood' where suddenly an additional acoustic guitar appears. 'Beyond The Mountain' evokes a 1970's feeling due to the Hammond organ, and I can confirm that it sounds pretty cool.
With 'Nostrum', CORTEZ combine the acoustic guitar with organ sounds and completely refrain from using electric guitars. This leads to the most atmospheric track on this album and offers a bit of tranquillity within all the riff-based heaviness. Much different is 'Northlander' where CORTEZ wallow in doom and gloom whereas 'Nice Try' returns back to a powerful mid-tempo groove. The fourth side of this double vinyl set includes the 2009 demo which contains rougher versions of 'Johnny,' 'Until We Die' and 'Monolith'. It's nice to compare them with the newer versions on this album, but I think that only die-hard fans of CORTEZ will be happy about the demo. For my part, I would have liked more new songs but, hey, you can't have everything. In summary, this is a musically strong and wholly enjoyable album that features a very energetic performance and plenty of great tracks. Welcome back, CORTEZ!
(KK)