CONDENADOS (A Painful Journey Into Nihil) CD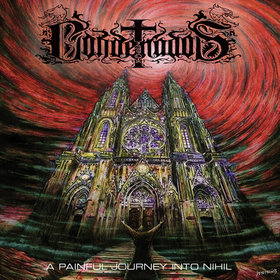 Shadow Kingdom Records already excellent reputation for sourcing ultra-rare heavy metal and top-notch doom metal can only be reinforced by this album. It was only after five years that Chile's CONDENADOS finally managed to release their first full-length 'A Painful Journey Into Nihil' via Shadow Kingdom Records. With the help of two demos, two EPs and one split CD, they have attracted the interest of a lot of doom metal fans - and not without good reason. These three Chileans deliver epic doom metal of highest quality and I am sure this debut will help to gain more fans.
CONDENADOS has absolutely created a beautiful, powerful, emotional and crushing work with 'A Painful Journey Into Nihil' that consists of six tracks. From the majestic intro that segues like a movie sequence into the first song, 'Las Puertas De La Catedral', to the very last riff of 'Final Transmutation', you are in for an exquisite epic ride. The album is bursting with strength and creativity, and despite the epic orientation, there's still enough dirt to be found. This is especially due to Fernando Vidal (guitar, vocals) whose monumental guitar tone is as solid as a rock. But he also is very talented in writing memorable tracks that are varied and soulful. The solid rythym section led by drummer Aracano's fluid performance brings a dynamic impulse to upbeat cuts like 'Centuries Of Darkness' and 'Welcome To My Grave'. Fortunately, the band does not follow the same formula, and if you're looking for stereotypical doom metal (slow, cheesy and snivelling) than this album will not please you. The guitars fluctuate between gargantuan, epic riffs and churning, wind tunnel maelstrom with ease, and the clear vocals, while relatively monotonous in the delivery, sit well in the mix and compliment the music well.
The biggest surprise is 'Final Transmutation', where suddenly a flute appears which provides a very pleasant 1970s ambience. In all other respects, however, CONDENADOS are not part of the retro buisness. 'A Painful Journey Into Nihil' overspills with intelligent intensity, an epic journey as thoughtful and compelling as it is authentic and heartfelt. There is no doubt that currently two of the best doom metal bands come from Chile: Procession and, of course, CONDENADOS. 'A Painful Journey Into Nihil' is masterful, inspiring and stylishly executed. This is the best doom metal album that I've heard in 2011 so far.
(KK)
www.myspace.com/condenadosdoom