CHURCH OF MISERY (Thy Kingdom Scum) LP/CD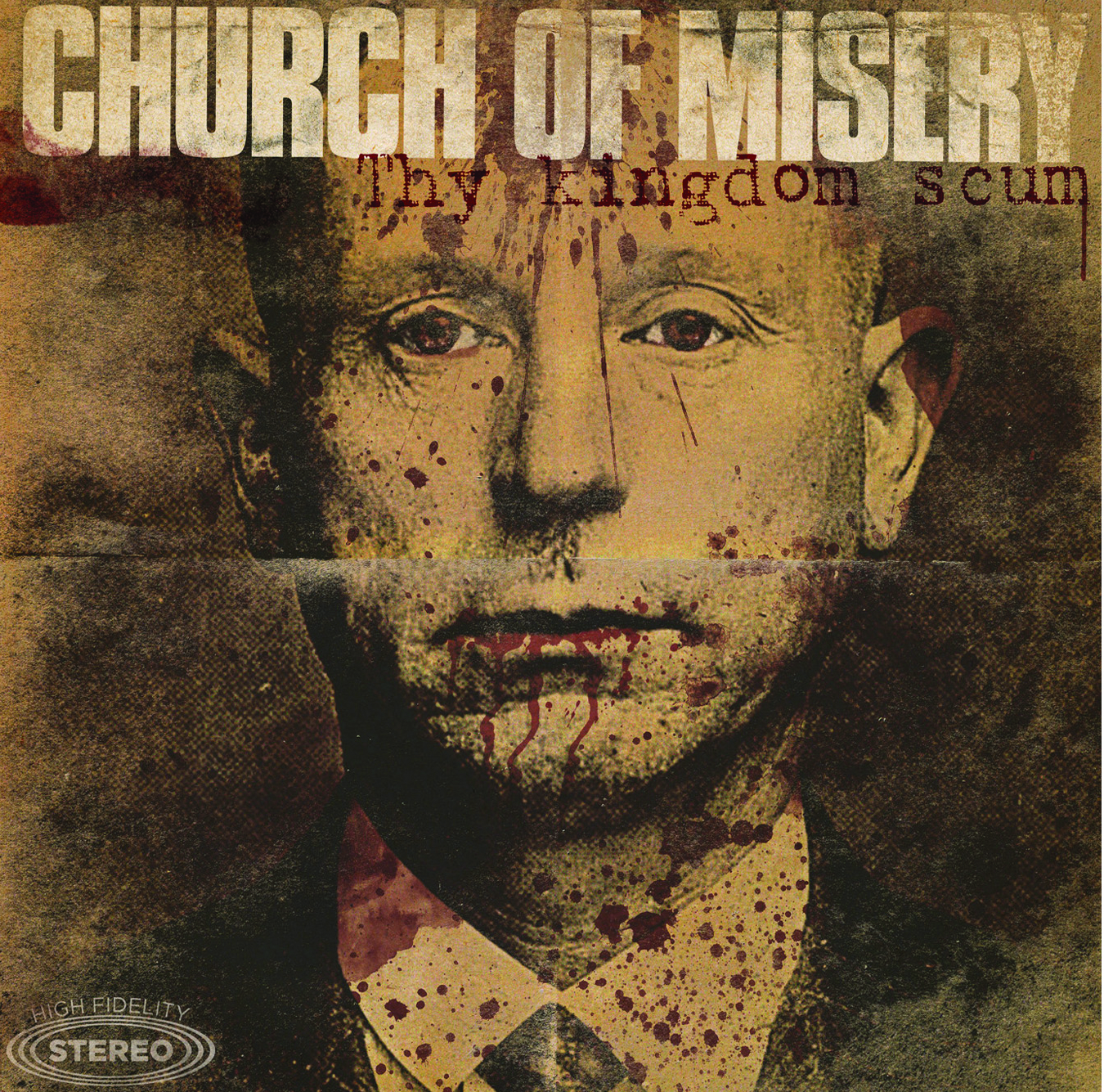 There were times when I was waiting eagerly for every new release from CHURCH OF MISERY. I also enjoyed their last album 'Houses Of The Unholy' (review here) at the time when it was released, but after a while I lost interest. Nowadays, I listen more to the old stuff from the 1990's as well as 'Master Of Brutality' (review here), which is probably their best work. In the old days, CHURCH OF MISERY had a much bigger knack for better hooklines and the serial killer concept was still fresh and something new, at least in the world of doom.
So, I have to admit that I wasn't too excited when I received a promo copy of CHURCH OF MISERY's fourth album 'Thy Kingdom Scum', that has been released by Rise Above Records at the end of May 2013. Nothing much has changed since then, although I had listen to this record quite often. Except for the excellent cover version of Quatermass' 'One Blind Mice', 'Thy Kingdom Scum' does not inspire my enthusiasm. Of course, the whole performance is passionate and the new guitarist Ikuma Kawabe as well as vocalist Hideki Fukasawa (who returned after several years of absence) do their best to strengthen the band's bloody world, but what's that worth if the songs aren't above the average CHURCH OF MISERY standard. The reason why I dig 'One Blind Mice' is, because it's more uptempo, but beyond that there are no real surprises. Well, I also like the second part of 'Dusseldorf Monster' due to the same reasons.
But, furthermore, I feel slightly bored by CHURCH OF MISERY's ongoing admiration for early Black Sabbath. Of course, there are more influences, but it's obvious that 'Thy Kingdom Scum' is strongly dominated by the early works of Birmingham's doom pioneers. So, originality often lags behind. Don't get me wrong, I still think that CHURCH OF MISERY is better than all other newer doom bands, and 'Thy Kingdom Scum' is definitely no bad album. But there are no real highlights, and those who are looking for impressive songs will find nothing here.
(KK)