CHERRY COKE (A Night In The Arms Of Venus) LP/CD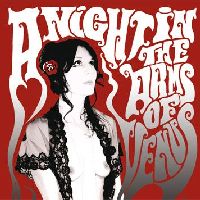 If there would be a retro-rock contest, CHERRY COKE's chances of winning the grand prize would have been pretty good. Founded in 2007 by Mathew Bethancourt (who is also known through The Beginning, Josiah and The Kings Of Frog Island), 'A Night In The Arms Of Venus' is CHERRY COKE's second record and it sounds as time had stopped in the year 1970. One discovers influences from, for instance, The Who, The Stooges, Blue Cheer, Cream or Stack Waddy and I cannot help asking: Why should one listen to CHERRY COKE when the originals are substantially better than the copy? Unfortunately, I can't give you a convincing answer to the question.
I am, however, sure that you will probably like this record when you can't get enough of the hard rockin' fuzzed-out music of the late 1960's/early 1970's. Additionally, CHERRY COKE have some nice songs in store, whereas I prefer the first half of the album. And even if the press info had not mentioned that 'A Night In The Arms Of Venus' was recorded with analogue studio technology and vintage equipment, one could have realised that immediately. As outlined above - more retro is not possible.
In this context, it should be mentioned that the raw and bone-dry production emphasises the dirty, garage-y feel of the music. There are no unnecessary extras and the only sonic gimmicks you will discover are a few psychedelic effects. To me, 'A Night In The Arms Of Venus' is a very solid album that captivates with its predilection for detail. There's also nothing wrong with the band's playing skills and one does feel their love for vintage rock 'n' roll. Despite all of this, CHERRY COKE doesn't blow me away. But that is no problem for me at all.
(KK)
www.myspace.com/thecherrychoke