CHARGER (Disgust At The Status Quo) MCD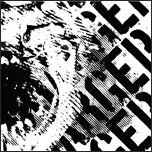 CHARGER come from Stoke-On-Trent, the city in which the mighty Discharge was founded almost 35 years ago. Of course, CHARGER do not exist for such a long time, but at least they have released two albums and a couple of EP's in the past years. At times, the band's logo looked exactly as the one from Discharge and that's not the only similarity to one of the most influential hardcore punk bands of all times. It is particularly noticable on their new MCD 'Disgust At The Status Quo', released at the end of 2009 by Future Noise Recordings, that CHARGER have a great preference for that band. This new release consists of three new tracks as well as a secret live set.
I'm pretty sure that especially the new tracks will please everyone who likes sludge enriched with a strong dose of crusty hardcore punk. The impact of bands like EyeHateGod is still there and the brutal heaviness of CHARGER's massive sound has not disappeared. Besides that, these four guys are mostly going full steam ahead and there are only a few viscous passages as in 'The Stuffer' or 'Omar Suarez' (do you remember 'Scarface'?). The quality of the live recordings is flawless and did justice to CHARGER's hateful, relentless sonic assault. I am anxious to hear the band's next full-length, because this is a perfect appetizer and it underpins CHARGER's outstanding position as one of the leading sludge bands in England.
(KK)