CATHEDRAL (Anniversary) 2CD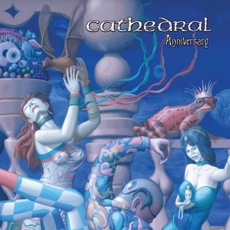 There were times when CATHEDRAL was one of my favourite doom metal bands. It was in the early 1990's at the time when 'Forest Of Equilibrium' and the 'Soul Sacrifice' EP has been released. But only one year later in 1993 I was disappointed by 'The Ethereal Mirror' and since then I began to lose interest in the band. None of the following releases managed to enthrall me like the old ones did, even tough CATHEDRAL was still a strong band on stage. I was thus all the more delighted when drummer Mike Smail told me two years ago about the 20th anniversary show, where the band had the intention to perform their debut album in its entirety featuring the original 'F.o.E' lineup. My first thought was: "damn, that's great!" At this time it was not clear if that show will be released, but I hoped that this would happen one day - whether as a DVD or a live album.
It seems that my prayers had been answered because Rise Above Records released the band's anniversary show in October 2011. The result is a luxurious 2CD set, which includes both shows from the anniversary show in London's O2 Islington Academy on December 3rd, 2010. As you can imagine, I was especially interested in the first disc, appropriately entitled 'Back to the Forest'. The first thing you will notice is the crystal clear sound of the recordings. The entire sound is massive, differentiated and powerful. What amazes me is the fact that it seems as if the 'Forest Of Equilibrium' lineup never broke up. They form a strong unit, and especially Mike Smail's virtuoso drumming style ensures that the performance remains vital and dynamic. But I would not have expected any less from this man who made doom metal history with Dream Death, Penance and of course Cathedral. Additionally, one shouldn't forget the time he spend with Internal Void, Pentagram and Under The Sun.
But also guitarist Mark 'Griff' Griffiths (ex-Year Zero, ex-Blackstar, Arkazum) and bassist Adam Lehan haven't both forgotten anything. Really nice: great importance has been attached to the details. The show kicks off with 'Picture of Beauty and Innocence' and they have not forgotten the flute and organ in 'Reaching Happiness Touching Pain'. All in all, disc one is a marvelous live document of CATHEDRAL's groundbreaking debut album and a must-have for all the old fans. This is followed by a second disc named 'Bleak Winter' where the current CATHEDRAL lineup performs a kind of best-of, including tracks like 'Hopkins', 'Midnight Mountain', 'Ride' or 'Corpsecycle', just to name a few. To me, the best tune is 'Night Of The Seagulls' that has been originally released on 'The Carnival Bizarre' in 1995. But besides this I can't do much with disc 2 due to the aforementioned reasons. Nonetheless, 'Anniversary' is a very good album due to the short-term reunion of the original 'F.o.E' lineup.
(KK)