CARAVAN OF WHORES (Road To Kurti) CD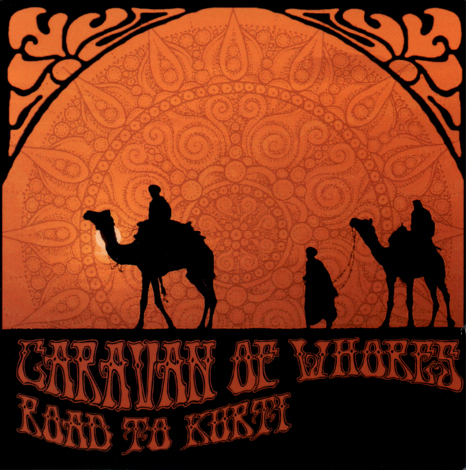 'Road To Kurti' is the second self-financed release from UK's CARAVAN OF WHORES and contains 4 tracks with a total running time of 31 minutes. Based on the band name, I thought that CARAVAN OF WHORES would play some sort of nasty sludge, but far wrong. CARAVAN OF WHORES have choosen a gentle, almost easy-going pace that is free from any outbreaks of violence. Instead, they refine their fuzzy heavy rock with psychedelic ingredients and chant-like vocal lines in order to create a trance-inducing atmosphere.
An exceptional example of this strategy can be found in 'Your God Is Dead', clocking in at 9 minutes and 24 seconds. It's perhaps my favorite from 'Road To Kurti', and is highlighted by a beautiful, groovy psychedelic part during the second half of the song. Other tracks such as 'Drug Queen' demonstrate the band's penchant for old Black Sabbath and Sleep without revolutionizing the genre.
I must admit that not each of John Slaymaker's riffs takes me off, contrary to drummer Jamie Gillet who never ceases to amaze me with his clever and lively drumming. Even if a song becomes too monotonous, he yet manages to add greater dynamics to the lumbering structures. Pete Smith (vocals and bass) forms a very solid link between Slaymaker and Gillet, and also as a singer he does a nice job. With 'Road To Kurti', CARAVAN OF WHORES present themselves as an ambitious band, who certainly have the will to create their own heavy melange. This does not always succeed, but they definitely head in the right direction.
(KK)