V.A. (Burn The Street Vol.3) CD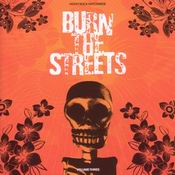 2004 seems to be a good year for tasteful high-quality heavy/doom/sludge compilations. Well, my personal highlight is the "Doom Capital" compilation, released by Crucial Blast. Now Daredevil Records are coming up with the third part of their "Burn The Street" series. Instead of releasing a 7" this time, Daredevil chief Jochen Boellath decided to assemble twenty-one bands on a full-length CD with a total running time of 74 minutes.
That's what I call value for money, because the included material is more than just good, combined with a fine detailed packaging. Of course, some of the tracks have been released before, but at least "Burn The Street" gives the listener a good overview about some of the today's most promising heavy rock bands. One can listen to contributions from the following bands (take a deep breath!): DISENGAGE, HERMANO, MILLIGRAM, SPARZANZA, SUNRIDE, CHUM, THE AWESOME MACHINE, DEVILLAC, MAGNIFIED EYE, NEBULA, GREAT DAY FOR UP, DUSTER 69, DOZER, SERGEJ THE FREAK, THE CHUCK NORRIS EXPERIMENT, SISSIES, MOUNT CARAVAN, HELL 'N' DIESEL, SPOILER, SUB SECOND ROCKET and ASTROQUEEN. My personal highlights are CHUM's unreleased "Embracing The Eyesore". Totally downtuned, but still catchy and groovy as hell. Imagine Only Living Witness would jam with Goatsnake. Sadly HERMANO's "Cowboys Suck" has been taken from their latest album "Dare I Say...", but anyway, Garcia's vocals still rule like the whole song. SPARZANZA's "Coming Closer" combines all the bands trademarks - sharp metallic hooks, charismatic vocals and this Swedish band is as tight and precise as Swiss clockwork.
DISENGAGE are coming up with "University of Texas Militia" that has been taken from their Japan only release, and so I guess only a very few readers will know this massive and promising track. NEBULA's "More" has been taken from their last album "Atomic Ritual", and this band don't need any introduction. But it would have been better to release somthing unknown from this powertrio. GREAT DAY FOR UP are the next excellent band here, and their contribution "Golden Arms" sounds like an original cross between Solace and Dozer. SERGEJ THE FREAK's "Nothing Good" is another convincing track here - early Ted Nugent driven guitarwork combined with a slightly psychedelic atmosphere, but still sounding very modern and updated. HELL 'N' DIESEL are great too, and "Brand New Eyes" makes me want to buy a fat motorbike and ride into the next sunrise. This gang owns a damn good vocalist, embedded into a catchy 70's metal-tinged heavy rock mash. Very expressive! No it's up to you to discover your faves here. I guess "essential" is a good adjective for this collection, but so is "fun".
(KK)