V.A. (Burn The Street Vol. V) CD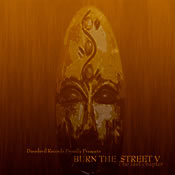 This is the fifth and last issue of Daredevil Records' compilation series "Burn The Street", and while the last one was unexpected heavy and sludgy, "Vol.5" is again more focused on 70's inspired heavy fuzzrock. As usual, this compilation features unknown bands like BLACK HOLE OF HULEJRA, THE HURRICANEZ (ex-Boogieman), C'MON (with former members of Nashville Pussy), DEFUSE, WINTERUN, PINOCCHIO PINCHBALL, TAURUS, STONE TAPE THEORY, T.H.U.M.B., DEAR MUTANT, HIGHLIGHT as well as more-known groups like CALAMUS, THE AWESOME MACHINE, RICKSHAW, GUTBUCKET, NIGHTSTALKER, DUSTER 69, OJO ROJO, GOOD WITCH OF THE SOUTH, ALIX and GENEROUS MARIA. Most of the tracks have never been released before, and some of them a pretty good, as for example THE AWESOME MACHINE's contributiom.
It's the first official recording with the new singer, and he's doing an damn good job, but the rest of the band is very convincing, too. For me, one of the best tracks from this Swedish band, not only on this compilation. Promising newcomers are WINTERUN from Australia, and TAURUS from Sweden, who deliver their own heavy groovin' power rock, but also bands like HIGHLIGHT or BLACK HOLE OF HULEJRA are a nice alternative to the usual stuff. It would've been great, when the guys of Daredevil had included unknown songs from NIGHTSTALKER and ALIX , just to name a few, but nevertheless "Burn The Street Vol.5" turned out well and gives once again an informative overview about today's worldwide heavy fuzzrock scene. At least, two big bonus points for the tasteful cover-artwork, done by Torben from Magnified Eye!
(KK)