BULLFROG (Beggars & Losers) CD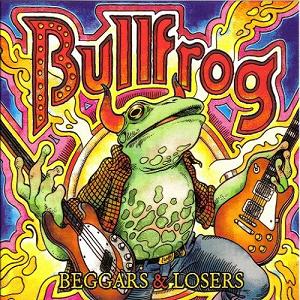 Since 1993, Italy's BULLFROG totally dedicate themselves to the culture of 1970's hardrock. They started as a cover band, playing songs from bands like Bad Company, Free, Mountain or Grand Funk Railroad until they realized it was more fun to play self composed songs. It seems logical that their own material is strongly influenced by their musical idols. In 2001, Andromeda Relix released BULLFROG's debut 'Flower On The Moon' for which the band received a lot of good reviews. Eight years later, the third album 'Beggars & Losers' is now available and all classic rock fans should note the band's name. BULLFROG is firmly grounded in the tradition of the 70's hardrock-power-trio-species, not only because the band consists of three members. But they don't try to exactly imitate that musical chapter at all costs. It's more that they have transported the key element's in today's decade and it works.
What also strikes me about 'Beggars & Losers' is the powerful production that will ensure that this album has been recorded in 2009 and not in 1972. The album starts with 'Over Again' really dynamic, creating a positive atmosphere that runs like a red thread through all eleven songs. 'Rocking Ball' has a lot in common with Free, but I can also hear some funky undertones that remind of the first two records of Mother's Finest. The fastest song is 'On Through The Night' and it would've been nice if BULLFROG has done this more often. In the second half of 'Beggars & Losers', however, the songs begin to become calmer and move further in a southern rock direction. Moreover, they prefer to merge together to form a more AOR-orientated sound which I am very uneasy about. On the other hand, it shows that BULLFROG is able to record a varied album that will please all blues, southern and 70's hardrock fans. BULLFROG can keep pace with their soulmates from Sweden or the USA, and 'Beggars & Losers' is a strong album, including a well designed, colourful digi-pack.
(KK)