BUDDHA SENTENZA (Mode 0909) CD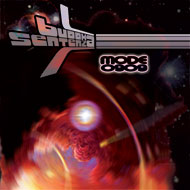 There's a new instrumental heavy rock band in Germany named BUDDHA SENTENZA, and 'Mode 0909' is their first self-released album. As is the case with some German heavy rock bands, there are a couple of conspicuous similarities to Kyuss, but it is obvious that BUDDHA SENTENZA are trying to step out of the shadows of that US band. They also manage to do so, and not only because they have no singer in their ranks. There are songs like 'Kehakeeltekool' that clearly have a tendency towards psychedelic rock, even tough the band has integrated more musical styles here ranging from organ-based hardrock to straightforward heavy rock. What particularly appealed to me is the use of keyboards and synthesizer.
From time to time there are a few samples as in the beginning of 'Ate Itself', which is also the most psychedelic song on 'Mode 0909'. Well, actually it's more like a sonic trip and is perfectly suitable for your next meditation exercise. On the other hand, however, there are fast driving tracks like 'White Crystal Party' or 'Noise From The Death Factory' that make one feel BUDDHA SENTENZA originate from Detroit where they spent a great deal of time listening to Iggy & The Stooges. I think it's remarkable that the band recorded the album live without any overdubs in only one day at the Industrial-Site-Studio in Heidelberg, Germany. 'Mode 0909' sounds good and professionell and proves that this five guys know what they are doing even if all that glitters is not gold. But this a good start for a young band and you can order this album directly from the band.
(KK)