BROKEN BONES (Fuck You And All You Stand For!) LP/CD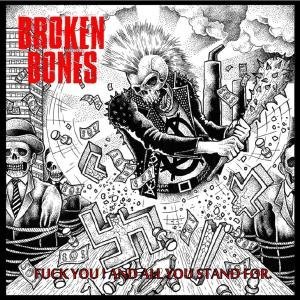 I wouldn't have thought that UK's Hardcore Punk veterans BROKEN BONES are capable of recording such a strong album as their new one 'Fuck You And All You Stand For!', released in 2010 on their own record label Dem Bones Records. Founded in early 1983 by former Discharge guitarist Tony 'Bones' Roberts, BROKEN BONES achieved a good reputation very soon. Today, their first releases are classics and are one of the cornerstones in the history of metal-influenced Hardcore Punk. Especially Bones' skull crushing riffs have influenced myriads of Punk bands and his merit is comparable with what guitarists like Ritchie Blackmore and Tony Iommi did for the development of heavy metal. I have to admit though that I had bought the last BROKEN BONES record 'F.O.A.D.' in 1987, so I can't say anything about their albums between 1988 and 2009.
However, as was mentioned earlier, 'Fuck You And All You Stand For!' is a raging beast which is driven by the disdain for today's fucked up western society and there's still a lot of shit going on in our so-called "civilized" world. All eleven songs are fast and heavy and the whole album offers no time to break so that the listener is pressed against the wall like a chewing gum. Quiv's brutal vocals perfectly embody the wrath of the lyrics while Bones unleashes a merciless whirlwind of riffs. The tight rhythm section consists of drummer Dave and bassist Oddy (ex-Conflict) and both guys are able to fill all holes with precise beats and thundering basslines. I also like the fact that the band has diminished the metal influences in favour of a primal Hardcore sound. 'Fuck You And All You Stand For!' is an angry album and a lesson for all the lame shit that nowadays will be released under the name Hardcore Punk. You can't get more Punk than that. This is definitely well worth the purchase. Killer!
(KK)