BOOGIEMAN (Triple Six Blues) LP/CD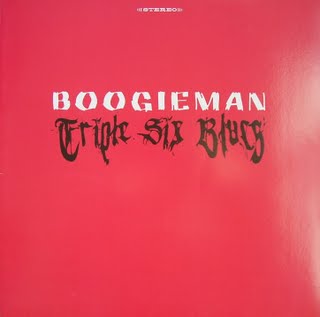 My first meeting with this Swedish band was, as I've listen to their track "Red Sleeve" on the PLY/Stonerrock.com compilation "The Mighty Desert Rock Avengers". This song was nothing special to me, just the same typical heavy distorted fuzzed-out metallic bluesy heavy R 'n' R nearly every band plays in Sweden. Here's the debut album, which will be released on People Like You Records in May 2003. The album kicks off with the same track, and there's still no reason for me to change my opinion about it. But I'm a patient person and so I wait for the next track, titled "Satisfaction". Not that bad, although again nothing special but I like the Thin Lizzy-like parts in the middle of the song. After that comes "14 Pictures" and for a change BOOGIEMAN shows more emotions.
The fast-forward "In Hell" reminds me to the Mushroom River Band and it's the first track that really gets my whole attention with its nice hookline and the major break in the middle of the song, where the the track drifts more into a Sabbath-like direction, comparable to "Planet Caravan". After this, the album gets more interesting, the grooves are getting better and there's more variety in the songs. The ten minutes long moody "Infinity" shows, that BOOGIEMAN are able to create a long-winding atmospheric song, where not only the heavy guitar riff dominates. Another outstanding track is the doomy "Yellow Sea", followed by the catchy "Hey Hey Hey". I would file BOOGIEMAN next to The Awesome Machine, Mushroom River Band and later Monster Magnet and if you're lookin' for a solid heavy powerful groovin' beer-drenched album, check out "Triple Six Blues". It's a good soundtrack for the next summer-barbeque! For more informations, visit the BOOGIEMAN homepage and place your order at the People Like You Records homepage.
(KK)