BLUE CHEER (Rocks Europe) DVD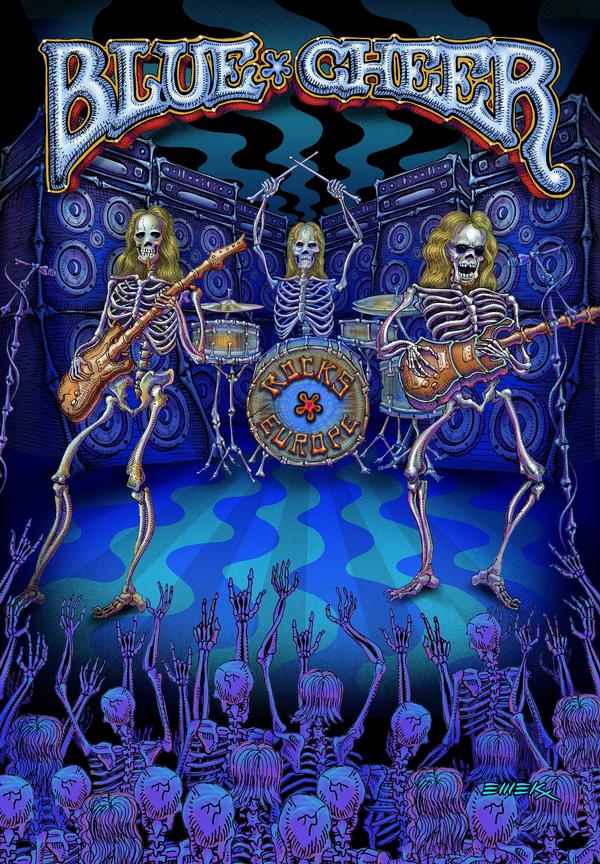 Last year, when I received this DVD from Rainman Records, Dickie Peterson was alive and nobody reckons with his dead. In October 2009, he suddenly and unexpectedly died in his residence in Erkelenz, Germany, and a lot of fans and musicians were shocked by this sad news. So am I. Many people should know that BLUE CHEER has catapulted blues and rock 'n' roll into unknown regions with their legendary debut album 'Vincebus Eruptum', released in 1968 on Polygram Records. At this point of time, BLUE CHEER were a dangerous and wild band with a close connection to the Hells Angels. Their shows in the late 1960's have become notorious, because of their extreme volume. The music was untamed and very heavy, but at the same time it was psychedelic. So it is no surprise that BLUE CHEER have influenced thousands of bands to the present day, from Thee Hypnotics to Kyuss to Pentagram.
Unfortunately, the big commercial breakthrough never happens, but nevertheless Dickie Peterson and his BLUE CHEER never gave up. That is really a praiseworthy attitude. Especially in the last years the band was very active, including an appearance at Roadburn 2007 as well as many more shows. Not to forget about the last album 'What Doesn't Kill You' which showed the band at the top of their form. 'Rocks Europe' makes it strikingly clear that BLUE CHEER have never degenerated to their own boring cover band. Recorded by WDR-TV in Germany in April 2008 for the Rockpalast show in Bonn, the concert is a testament to the power and professionalism of the band. The set list includes well-known classics as for example 'Doctor Please', 'Out Of Focus', 'Babylon', 'Just A Little Bit', but also a couple of songs from their last album as 'Rollin Dem Bones' or 'Maladjusted Child'. It is a real pleasure to see that BLUE CHEER is in damn good shape at this evening. Bassplayer Dickie Peterson is still an extremely cool and ironic guy with a good sense of humor. His voice, while sounding a bit strained at times, is still edgy, with the sound of a man who has traveled many, many hard roads, and this adds to the rough edge to the band's sound.
Drummer Paul Whaley, another original member, plays hard and powerful while guitarist Andrew 'Duck' MacDonald again proves that he's an amazing player. Needless to say BLUE CHEER is still heavy as a truckload of steel. The overall playing time is approximately 90 minutes and there's never a dull moment. Simply wonderful. And of course there are many special features on 'Rocks Europe', including Dickie Peterson's voice over commentary of the entire concert, a highly informative interview with him, liner notes by Jack Endino and many more. I especially like the Dutch TV featurette, where you'll see BLUE CHEER in their rehearsal space featuring Joe Hasselvander on drums. All in all, I can say that 'Rocks Europe' is a fascinating and exciting document of a band that has defined the term 'power trio' along with Cream. Highly recommendable.
(KK)