BLOOD OF THE SUN (In Blood We Rock) LP/CD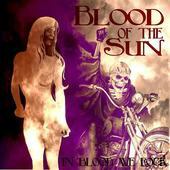 Without any doubt, Texas is one of the hottest spots in the USA when one wants to talk about the history of blues and rock. In the 60's, there have been the 13th Floor Elevators, then the Moving Sidewalks, ZZ Top, Point Blank followed by newer bands like Dixie Witch or doom stalwarts Las Cruces just to name a few of the best. And there's, of course, BLOOD OF THE SUN, who's first album gained a lot of positive feedback from the underground music press. 'In Blood We Rock' continues in the same vein as the excellent debut album, packed with catchy riffs, roaring organ sounds, thunderous drumming, powerful vocals and a classic 70's rock vibe. It's still very clear that the band are still, very proudly, flying the flag of heavy organ-based 70's rock.
All eight tracks are undoubtedly skilfully composed and emotionally engaging. Dave Gryder's organ and piano playing is sublime and lend the band a majesty others can only dream of. And with the last furious song 'Road King' he shows the world, that he's also a charismatic singer. Drummer and lead-vocalist Henry Vasquez is never overdoing it, but always strong and commanding, he stamps the BLOOD OF THE SUN sound instantly with his soulful vocals.
Of course, he can't replace former vocalist Mark Zamarron (ex-Las Cruces), but he sounds like his small brother so that I couldn't imagine anyone else on the microphone now. The biggest change with this album, however, is the quality of the compositions. The music is still as rousing and passionate as ever, but this time the songs include some nice surprising changes, what makes it more interesting than the debut, which is still a very good one. 'In Blood We Rock' is an excellent album that will be loved from all fans of organ-driven heavy 70's rock and I don't want to live without it.
(KK)