BLOOD ISLAND RAIDERS/AMONG THE MISSING (Blessed Are The Dead) Split CD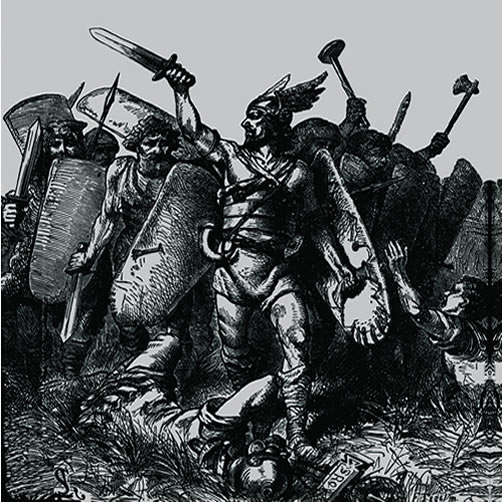 Originally released in 2005 as a limited 12" on Withered Hand Records, this is an enhanced CD re-release from the same label. Even if you own a copy of the 12" it could be interesting to buy this CD because it contains seven exclusive live tracks in addition to the original studio tracks and a 'fancy silver cover', that looks very tasteful. BLOOD ISLAND RAIDERS break the first ground with 'Night of the Frost', a combination of classic heavy metal, doom and heavy rock. The song kicks off with a heavy bass that evolves into a mid-paced metal section, and I expected a metal shouter, but vocalist Warren acts more like a 70's hardrock singer what isn't half bad. That is an interesting contrast indeed. The total running time of this epic track is almost twelve minutes and especially the Tony Iommi-like guitar solos of guitarist Reverend Al appeal to me. That is delivered by a fat sound, and the following three live tracks enable better access to the music of BLOOD ISLAND RAIDERS. The sound quality is very good, and even if the band isn't innovative or spectacular it's fun to listen their songs.
AMONG THE MISSING is the next band and their first song 'Horses for Corpses' is an epic song with a length of 16 minutes, where the heavy grooves of early Black Sabbath collide with the nihilistic spirit of EyeHateGod. The opening segment builds a great tension and when the song explodes with a crushing riff, it's obvious that AMONG THE MISSING know their subject. The loud-quiet-loud arrangement of the song is one of the reasons, why it isn't beyond endurance. After that, four live tracks have been added here, which proves the band's capability to deliver their powerful sound on stage, too. Happily enough, AMONG THE MISSING has more to offer than a rehash of the well-known standards. They've created their own filthy, sludgy sound, instead of just trying to imitate bands like EyeHateGod or Grief. Different influences have been blended perfectly to capture the hate and disgust for the world we live in. The songs are loud, edgy, surprisingly fast-paced, whilst vocalist Tim doesn't always sound as a crazed psychopath. 'Blessed are the Dead' afford an opportunity to meet two promising heavy bands from the UK, and I can only give you the advice to make use of it.
(KK)