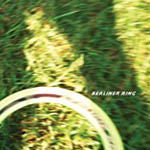 I love a compilation that has a theme and "Berliner Ring Vol.1" is exactly that, but at first I like to remember the early 80's when I was strongly involved into Punk Rock, and Berlin was my personal punk capitol city, although Hamburg was very important, too. Apart of legendary clubs like the SO 36 there were a lot of outstanding bands to discover like Sick Pleasure, Porno Patrol, Betoncombo, PVC or VKJ, jut to name a few, and whenever I got the chance to travel to the former wall city, it must have been the same as if a muslim comes to Mekka.
But in general, Berlin has always been a creative ground for rock music in all its different facettes and Ton Steine Scherben are just one legendary still influencal band from this city. Now we write the year 2004, a lot has changed, but Berlin is still a place where a lot of good independent underground rock bands are around. This bands don't care about major labels and all this brainless media shit, because it's better to keep your own credibility and attitude. That's why the small Berlin-based label Setalight Records took the chance in releasing this highly interesting compilation, featuring fourteen bands from Berlin. What I really like about "Berliner Ring Vol.1" is the fact that mostly all tracks are unreleased, and that it features different styles from Psychedelic to Heavy Fuzz to Noise Rock and more. My personal faves are (no particular order!) LIQUID VISIONS with "S.p.i.r.a.l.s./ Phantom Child", two covers that are connected to one excellent tune, SAMAVAYO's "Keep on rollin'" is heavy fuzz rock at its best while STONEDUDES' "Slow time roll" is a smooth groovy piece with a laid-back atmosphere. DRIVE BY SHOOTING's "Morning Call" is a tasteful cross between MC5 and The Sonics and SULA BASSANA's (with LIQUID VISIONS members) contribution "The End of the World" sounds as if Tricky would jam with the Residents. Very strange, but also very entertaining!
Other good material here comes from OJO ROJO, who have gained a good reputation during the last years with their explosive heavy metal rock, ROTOR who shouldn't be unknown to fans of heavy fuzz and their track "Erdlicht" is another highlight here. BEACH is the right band for all fans of psychotic post-rock while THE OCEAN and KIND are coming up with the most brutal cuts here. ARVID NOIR are playing some sort of 60's/70's influenced rock and another recommendation here, while the cuts from LUCIES BRAINFUCK, ORWO 6 and ELECTRIC LIZARD slide away anonymously. All in all, a very good compilation for those listeners who are interested in discovering new bands or just want to get a potent overview about Berlin's varied heavy rockin' music scene.
(KK)