BEEN OBSCENE (Night O'Mine) LP/CD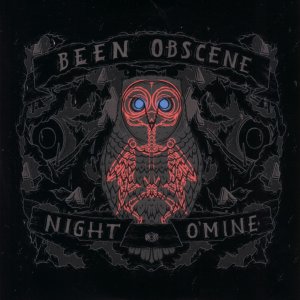 I have liked the latest releases from Elektrohasch Records, but I find it hard to welcome the second record from Austria's BEEN OBSCENE. This is mainly due to the band's sonic cocktail, but I also dislike the expressionless singing style of guitarist Thomas Nachtigal. For my taste, he would fit to an indie-rock/ -pop band, although BEEN OBSCENE is not far away from that musical pigeonhole. Of course, their songs are heavier with a slight penchant for psychedelic and progressive rock.
Additionally, these four guys certainly like Colour Haze, but also Queens Of The Stone Age with whom they share the above-mentioned affection for indie-rock (or whatever you would like to call it). However, it is noticeable that BEEN OBSCENE has stronger internalised the aesthetics and playfulness of 1970's rock, without ever sounding like a band from that decade. Actually, quite the contrary is the case. There's a timelessness to their songs that couldn't be overlooked. It's also nice that 'Night O'Mine' is varied and rich in emotions, even when the overall mood is more located in a darker region. Nevertheless, that darkness does not overshadow the youthfulness of 'Night O'Mine' and I can well imagine that younger people feel appealed by that vibe.
Another thing that I regret is the lack of sweat-soaked rock 'n' roll madness. Everything sounds too tame and introverted for my taste. I think this is because of the indie-rock/ -pop influences but I am not sure. I am, however, sure that I will never listen again to this promo when I have finished the review. For me the best thing about 'Night O'Mine' is the earthy production, but otherwise BEEN OBSCENE remind me why I never was a huge fan of "stonerrock".
(KK)