BEEHOOVER (The Sun Behind The Dustbin) CD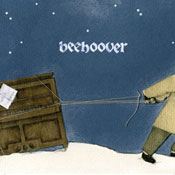 A few years ago, I received an MCD-R from this German band, but due to several reasons I never finished the review. One of the main reasons was that I have had a lot of personal problems at that period of time, what brings me to the conclusion that it wasn't the quality of that release which stopped me in writing a few sentences about it. Maybe I'll post this missing review very soon, so please have patience. In the meantime Exile On Mainstream Records did sign BEEHOOVER, and this is their debut full-length, which has been released in 2007. BEEHOOVER is a very unusual band, not only because they only consist of bass and drums. Ok, we have other bands like Big Buisness and Om, but this German band have not much in common with both groups. It's very difficult to categorize their music and in the end, this shouldn't be important about music, but I suppose that you want to know what's going on here so I'll try my best. BEEHOOVER have taken the virtuosity of Jazz , the heaviness of Doom, and the creative innovation from bands like No Means No and Beefeater. Even a bit of folk has flown into their music as in the song 'Nice Romantic Evening', where they only use acoustic guitar, vocals and an additional violin.
All this is connected together in a very natural way and the final result is extremely refreshing and intense. While listening to this album you would never think, that both musicians are also the rhythm section of Voodooshock, because BEEHOOVER are very different from that sound. It's only the heaviness, which can remind the listener to that band.but nothing more. This guys are amazing players. Drummer Claus-Peter Hamisch is precise like a Swiss clockwork, while bass-player/vocalist Ingmar Petersen plays his bass with such virtuosity and variety, that a guitar would definitely be superfluous here. The technical skills are doubtless impressive, what makes this album to a dynamic experience. BEEHOOVER create a sound, which is made for your head but also for your heart and your feet. Only Ingmar Petersen's vocal style is sometimes very disturbing, because he's tending to exaggeration. Fortunately he's not doing that in every song, but it would be great, if he changes his style or BEEHOOVER play more instrumental songs in the future. Technically and musically, a strong debut but they need to work on the vocals.
(KK)