BEEHOOVER (Concrete Catalyst) LP/CD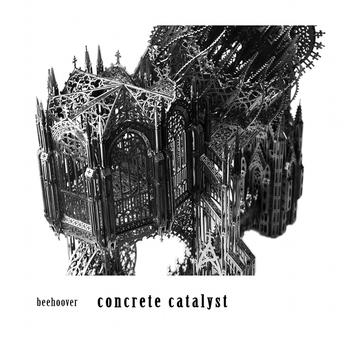 If there is indeed a New Wave of German Kraut Rock, as I just read something about Neo Kraut, then Beehover should easily be the top of that movement. And that is because these guys are a) from Germany and b) just fucking rule with their sometimes progressive sometimes a bit psychedelic Heavy Rock. For those that do still not know: Beehoover are a duo without guitars and therefore the bass is the lead instrument, so that you will not miss the guitar. These guys just know how to write interesting stuff. That means not every song is a cheesy hit that sticks in your ear directly. But on the other hand there is always something going on in a Beehoover song. There are those nice quiet parts that make you nearly dream away and then these guys break your tripping with some heavy, distorted riffing.
The drums of Claus-Peter Hamisch sometimes just compliment the work on the bass by Ingmar Peterson and there you got those moments where Beehoover nearly write something like a common Heavy Rock song (which is not bad) but then they twist and they make you think, why they might have added that riff right there. And then the drums set in for some tricky rhythm that wants to make you dance but then you just want to find out what the guy is up to on the other hand. Beehoover do it all, the straight rhythm, the blues shuffle as well as the weird, progressive time and tempo changes. And it always fits together well. 'Sultana' for example jumps from Blues Rock to Metal to groovy Rock and just when you start to nod with your head, the break gets you out of that again.
And then you got the moment when Ingmar puts out the acoustic guitar for 'Rocking Chair', when he just plays some simple chords, accompanied by some synthesizers now and then, to his singing before the song heads back into the Beehoover Rock. The acoustic guitar returns in the short thunderstorm sample featured 'When Wild Geese Yell' as well. I guess you finally got what I want to say. And 'The Dragonfighter' sees a return to the slower, darker side of their early material that made them popular in the Doom scene at first and features some nice harmony singing. This album is not easy to consume, nothing you should put on when you cannot give it a close enough listen to discover small nuances. This might be the downside of the album but on the other hand it is the strength of the band to have composed an album that is so interesting. It might not click at first but it will hook you.
(Thorsten Frahling)