BABY WOODROSE (Third Eye Surgery) LP/CD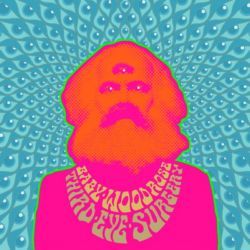 Lorenzo Woodrose always manages to reveal a new facet of BABY WOODROSE. In doing this, the sonic core remains the same: BABY WOODROSE is deeply rooted in the world of 1960's psychedelic pop and garage rock. But sometimes one album tends more to the pop direction while the next one is laced with hard riffs without losing sight of the psychedelic aim. With 'Third Eye Surgery', Lorenzo Woodrose increases the dosage of psychedelica slowly but in appreciable measures. He weaves a dense web of sounds around his distinctive compositions and still has the capability to pull the most heart-wrenching emotions out of himself and the listener, exposing vulnerabilities, wishes, hopes, loves and fears. This applies to 'Third Eye Surgery' as well: it fits seamlessly into the BABY WOODROSE back catalogue, but also into Lorenzo's complete body of work.
With tracks such as 'Bullshit Detector' or the title track, BABY WOODROSE show that they have not cast off their Stooges influences. Some of the riffs as well as the excessive use of a wah-wah in 'Bullshit Detector' is like a musical bow to Ron Asheton only with the difference that everything is embedded in a stronger sonic wave of lysergic acid. To me, the most surprising track of this album is 'Waiting For The War'. That tune is driven forward by a steady mechanical rhythm, and I sometimes get the impression as if Martin Rev (Suicide) had joined BABY WOODROSE. There are of course also calmer songs as for example 'Dandelion' or 'Honalee', which are overflowing with bittersweet beauty. 'Love Like A Flower' is one of my favourite tracks on this album and I have played it frequently since this promo dropped though my letterbox.
All of these songs, in their melancholic purity, do usher you to happiness in a sincere way. There is darkness on 'Third Eye Surgery' but there is also light, and that's the kind of emotional blend that breathes a lot of life into the nine songs. And of course it's the great musicianship as well as Lorenzo Woodrose's unmistakeable voice and his excellent songwriting talents that ensure that 'Third Eye Surgery' is definitely one of the psychedelic highlights in 2012. Therefore it is not a surprise that a third eye has grown on Karl Marx' forehead. Lenin had had his fun. However, the artwork (done by German artist Kiryk Drewinski) is simply mind-boggling and a perfect match for this soulful hallucinogenic journey.
(KK)
www.babywoodrose.wordpress.com