BABY WOODROSE (Love Comes Down) LP/CD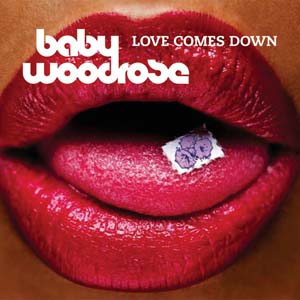 I was very pleased when I received the news that Bad Afro Records will re-release 'Love Comes Down', which is the fourth studio album of BABY WOODROSE. Until now it was definitely not easy to get a copy of this record, due to the very fact that it was only released in Scandinavia via the record label PMS. That was annoying because, in my opinion it contains some of the band's best songs but actually the whole album is worthy of more attention. 'Love Comes Down' has been recorded by the original BABY WOODROSE lineup and it has a lot in common with 'Money For Soul', even if the sound is heavier and more compressed. But other than this, it is further evidence of Lorenzo Woodrose's songwriting qualities.
In addition, his guitar work is colourful and radiant as a rainbow, and he lays down some simple but killer riffing on songs such as 'Found My Way Out', 'Chemical Buzz', or 'Do Right'. Some tunes are direct and powerful while others such as 'Lights Are Changing' or 'No Other Girl' document the melancholic side of BABY WOODROSE. Especially 'No Other Girl' is a true heartfelt gem for me as well as 'Nobody Knows'. It is needless to say that the whole album awakens the spirit of the 1960's, and thus it is no miracle that one is reminded of bands as The Byrds, The Sonics or The Chocolate Watchband to name but a few. Here and there, an organ appears or you will hear some female background vocals, which ensures that 'Love Comes Down' remains interesting and never becomes repetitive.
There are plenty of melodic hooks while the band delivers a strong and tight performance. Overall, this is a great record and if you dig BABY WOODROSE as well as the sounds of the 1960's like me than 'Love Comes Down' is an absolute must buy. And for everybody who already owns a copy of this album there will be a bonus 7" with two exclusive songs recorded at the same sessions. These songs are 'Cherry Bomb' and 'The Keeper' clocking in at more than 12 minutes, and I can assure you that both tracks are absolutely excellent. So, just buy this album, dim the lights, turn it up, and let the music wash over you.
(KK)