ATOMIC WORKERS (Third Disaster) LP/CD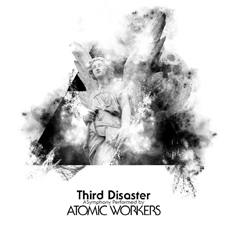 Does anyone remember the Italian heavy psych band That's All Folks! ? For me personally, they belonged to the spearhead of Italy's psychedelic rock scene at the end of the last decade and I still like their two records. Now you might ask yourself what has this to do with ATOMIC WORKERS. Well, the answer is very simple. The band was formed in 2003 by Michele Rossiello, bassplayer of That's All Folks!, after he moved from Italy to London. Fabio Mongelli, another member of That's All Folks! joined the band, and in 2006 ATOMIC WORKERS released their first record 'Embryonic Suicide' followed by the second full-length 'Wall Of Water Behind Me'. Here we have their third album, released in 2009 by Nasoni Records and exclusively distributed by Black Widow Records. Exactly like That's All Folks', ATOMIC WORKERS dedicate themselves to the heavy music of the late 1960's/early 1970's, but they cover a wider musical spectrum. Because of this, the nine songs sound very diverse.
This might be partly due to the fact that this album features a couple of guest musician from bands like Current 93, Bevis Frond and Spacemen 3. The opening track 'Secret Way to the Valley' is soaked with 70's doom while 'Chaos on the Breeze' digs his claws into some mean 60's garage punk, including additional Wurlitzer organ. 'Lost Pleasure' invokes the spirit of bands like MC5 or Radio Birdman and even here the band sounds very authentic. In contrast, the violin-driven 'Home' mingles elements of early Captain Beefheart, High Tide and Bob Dylan during his 'Desire' period. It sounds a little odd, but it works wonderful. Unlike other retro-rock bands, ATOMIC WORKERS don't try to achieve a total vintage sound. The production is clear and transparent so that 'Third Disaster' also might be interesting for people who are no complete 60's/70's fanatics. Overall, this album is like a magic bag of tricks where you can expect a refreshing surprise with each song. Well done, ATOMIC WORKERS and carry on the good work!
(KK)