ASPEN (Winds Of Revenge) MCD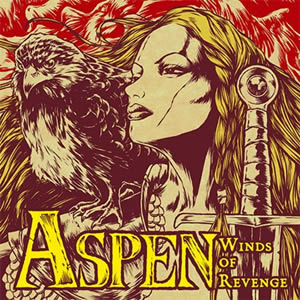 I have to admit, I've never heard of ASPEN before, but as 'Winds Of Revenge' is their debut EP I'll will surely hear of them in the future. ASPEN is a heavy rock trio and they present five songs on this EP, of which the first one, 'Arashi', serves more as a 2-minute intro than a song. But as the next tune 'Autopsy Headrush' bursts off, heavy down-tuned riffing kicks in to shows us where it's going here. Immediately recognizable are the very present drums mixed to the front, but that only shows the importance of drummer Cristiano Veloso for the band. He is very busy, filling everything up with nice snare drum patterns and tom rolls. The drum sound is really awesome, very beefy, pounding but natural at the same time.
The rather short title track is a killer tune, great riffing by guitarist Tiago Pereira here and with some nice rhythm shifts. Sometimes reminding me of a mix of HIGH ON FIRE, MASTODON and a bit of THE SWORD at times because of the up-front drumming and the crushing but tasty metal riffing, I just realized halfway through the 9-minute 'Like Crows They Drop' that this is an instrumental band! I have to admit I'm not the biggest fan of instrumental heavy rock, but ASPEN offer enough great melodious guitar licks and crushing riffage that I didn't really miss any vocals throughout the 28 minutes of this EP. The band's sound does help here a lot, the guitar sound is distorted to the max, but warm and biting plus the riffs are heavy and catchy so you don't even miss a guitar solo, which are also absent.
The growling bass is a bit too low in the mix for my taste, but this is evened out by the great drums sound I mentioned above. The cover seems to tell us tales of a mysterious warrior princess, accompanied by her trusty pet hawk, leading her troops into battle in a barren mountain landscape. This image accompanies their music very well, as ASPEN's mix of slow-pounding grooves and lively, fast-paced metal stomping sounds almost like a call-to-arms. I have to say I would love to hear this record with only some few vocals thrown in and one or two guitar solos for the variety, but that is just me. A very entertaining debut by a very skilled band! Give it a try, even if you're not a fan of instrumental stuff, you won't regret it!
(Steve Albino)