ARGUS (Demo 2007) CD-R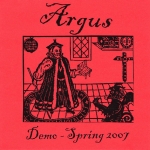 It's really sad that Penance split-up a few years ago. Hailing from Pittsburg, USA, they were one of the most underrated bands in the history of Doom Metal. It's a big loss that they are gone, but ARGUS will alleviate the pain because no one else than Brian 'Butch' Balich is the singer of ARGUS. His was the sole vocalist in Penance, who stayed for almost seven years in the band, and who recorded more than only one album with Terry Weston and Mike Smail, the core line-up of the group. Last but not least, his intense and powerful vocals became one of their trademarks during the last seven years. Now with ARGUS, Butch remains a singer, who could change the mood of a song with his voice to its best. Never overdoing it, but always strong and commanding, he stamps the ARGUS sound instantly with his characteristic vocals. Formed in 2005, this is the band's first recording which consists of five tracks.
The result is a demo of intricate and densely packed compositions that have their roots firmly in the period of the NWOBHM. Each chord drops thunderously into place with real gravity , and the vocals have exactly the right earthiness to them. Riffs are the point of focus here; from the mid-paced riffage of the opener 'Beyond (Part 1 - Eternity)' to the last notes of the instrumental 'The Effigy is Real' ARGUS offer a strong heavy doom-soaked package. They have a good sense for hooks, interwoven into the complex structures of each track. Since I've listen to the demo for the first time, I can't get 'Sleeping Dogs' out of my mind with its beautiful melody. This demo is an impressive amalgamation of 80's doom spirit and heavy metal intensity. Good to know, that the Miskatonic Foundation will release it, because more people should listen to this excellent band. This demo shows a lot of potential. Great band!
(KK)