ARGUS (Boldly Stride The Doomed) CD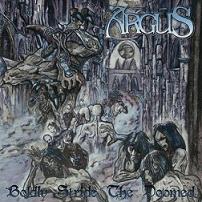 For me, ARGUS' self-titled debut album was definitely one of the musical highlights in 2009. They offer a great mix of classic heavy metal and doom metal, which is actually nothing groundbreaking. What is so special about ARGUS is that they have an extraordinary talent for songwriting and their technical skills are simply breathtaking. But what is much more important: the songs are absolutely soulful and passionate, which is due among other things to the charismatic vocals of Brian 'Butch' Balich (ex-Penance). He avoids all nerve-killing heavy metal cliches and has a very high recognition value. Everyone who loves later Penance knows what I am talking about. So I was very curious to hear the new 2011 album, 'Boldly Stride The Doomed', released by Cruz Del Sur Music who is one of Italy's most important heavy metal labels.
One thing is certain: it was worth waiting for the new album. Fortunately, ARGUS is continuing its policy, with the difference that the new full-length sounds better than the debut. And that was already a great performance! ARGUS know how to pace and structure their songs, creating a carefully crafted dynamic. The new tracks are unrelentingly intense, attacking with surprisingly military precision, a combination of heavy barrage drumming, rumbling bass, punchy riffs embellished with twin harmonics and great solos, all topped off by Brian 'Butch' Balich distinctive voice.
ARGUS admittedly do wear their influences on their sleeves at times (Iron Maiden, Trouble), and still create an own identity. The atmosphere of 'Boldly Stride The Doomed' is epic and evocative, yet also more personal and intimate. One of the reasons for that are the great lyrics of Brian 'Butch' Balich which can be found in the extensive booklet. ARGUS manage to pull off an admirably harmonious union, avoiding the pitfalls of cut-and-paste composing and providing well-judged material that is both energetic and heartfelt. Artistic integrity grips every second of 'Boldy Stride The Doomed' and sees a band underlining their place as a metal institution at the top of their game. In essence, this matter is simple: if you consider yourself a heavy metal fan and you don't end up with a copy of this album in your collection, then, frankly there's something wrong with you...
(KK)