ARABROT (Solar Anus) LP/CD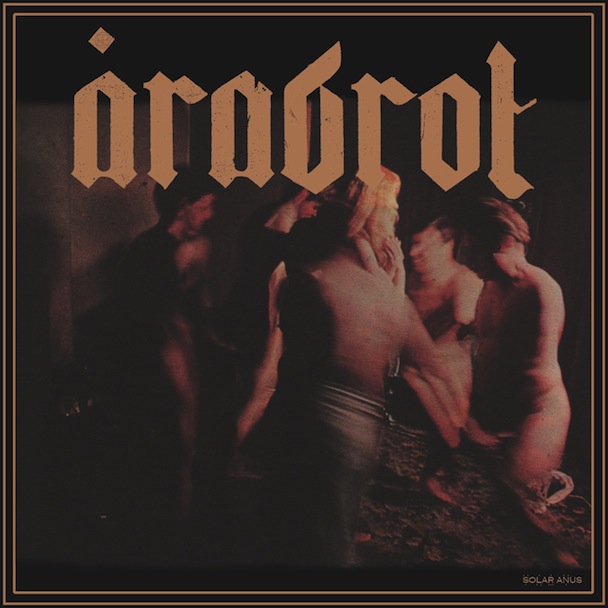 Once upon a time there was a bizarre Japanese band named Solar Anus, which mixed doom metal with kraut- and space rock. That was a really unique sound, but I fear that the band has long fallen into oblivion. I was all the more surprised when I noticed that Norway's heavy noise rocker ARABROT have named their new album 'Solar Anus' but after reading the press info, it became clear that these Norwegians have nothing to do with the weirdos from Japan. 'Solar Anus' (released by Fysisk Format in 2011) is ARABROT's fifth album that embodies everything I like about good noise rock - it's psychotic, unpredictable, heavy and uncompromising.
What's more, the band's songwriting is a marvel of tightness and focus, with every unnecessary note edited out for maximum efficiency and insanity. Traditional rock 'n' roll structures have been thrown right out of the window in favour of a brooding maelstrom that, in spite of all unwieldiness, is somehow catchy. The tempo changes, the ferocity sometimes takes a backseat to other, equally nasty, obsessions, but the absolute intensity and vitriol never lets up. There are moments where ARABROT remind me of early Melvins ('Gluey Porch Treatments'/'Ozma'), which is always welcome here.
This is complemented with diversified vocals, ranging from aggressive outbursts to some creepy parts that do always fit into the claustrophobic, oppressive mood of each song. All this results in a very dynamic album that has been recorded and mixed by no other than Steve Albini. Needless to say that he knows how to handle such a monster as ARABROT. Unfortunately I can't compare 'Solar Anus' with previous releases of ARABROT, since this is my first exposure to the band, but this one is definitely a very good record, and well worth investigating. It's the sort of psychotic heaviness that captivates and puts me in a certain state of mind when I listen to it.
(KK)