APOSTLE OF SOLITUDE (Sincerest Misery) 2LP/CD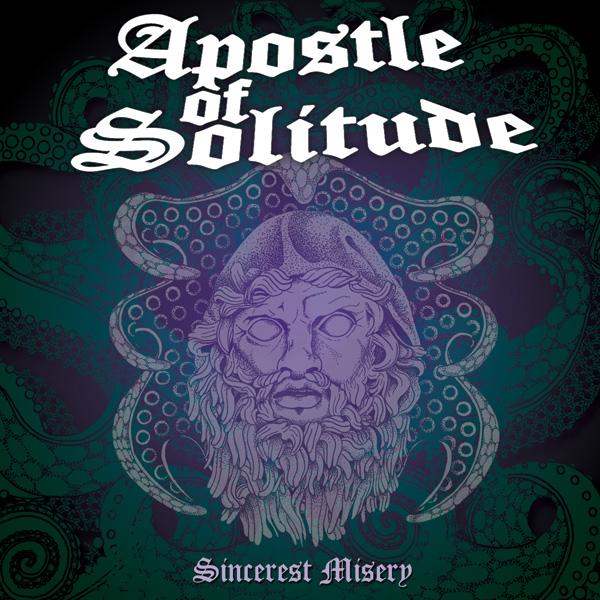 Formed in 2004, APOSTLE OF SOLITUDE have been crafting some of the best Epic Doom Metal that you could imagine. From the moment the suitably rousing album opener 'The Messenger' first reaches its confident crushing heaviness, you are ensnared in a world of desperation, depression and fatality. But each song emerges so much strength and momentum, that there's no time to drown in self-pity. APOSTLE OF SOLITUDE have set themselves a high benchmark in terms of musicianship and songwriting ability. What is impressive is the fact that 'Sincerest Misery' demonstrates the Sabbathian essence and intensity of Doom Metal with masterly accuracy. The guitars fluctuate between colossal, epic riffs and 70's-tinged outbreaks with ease, and the vocals, while relatively clear in the delivery, sit well in the mix and compliment the music well.
Guitarist Chuck Brown's (ex- The Gates Of Slumber) expressive vocal style is the cherry on the cake here, and draw distinctions to the average bands in Doom Metal. Another positive ascpect about this album is its varity. 'This Dustbowl Earth' will confound some listeners, while the instrumental 'The Dark Tower' is reminiscent of early Black Sabbath. The title track 'Sincerest Misery (1.000 Days)' comes along with a total running of fourteen minutes, and merges all of APOSTLE OF SOLITUDE's strengths - ponderous rhythms, relentless heaviness and unsparing lyrics. I can rarely recall hearing such an delightful debut from a relatively new Doom Metal band like this one.
This album is indispensable and some day it will become a classic in the history of Doom Metal. The CD version includes a solid version of Black Sabbath's 'Electric Funeral', while the limited vinyl version include the 'Embraced By The Black' EP as a bonus. Maybe you will find one of those special 'Die-Hard' editions with additional patch and t-shirt, but no matter what you're looking for make sure that it's this awesome debut!
(KK)