APOSTLE OF SOLITUDE / DAWNRIDER (s/t) Split 12"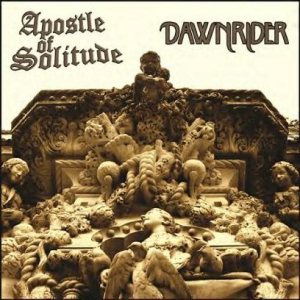 First of all I want to thank F.J. Dias of Blood & Iron Records for sending me a copy of this excellent 12", which contains two previously unreleased tracks from APOSTLE OF SOLITUDE and DAWNRIDER. I think that both bands are criminally underrated, but, hopefully, this release will help to spread the name of both groups because they really deserve it. U.S. doom-metal stalwarts APOSTLE OF SOLITUDE opens with 'Death By Misadventure' that fit smoothly into the back catalogue of the band. That might be due to the fact that this song has been recorded by the old lineup with guitarist Justin Avery and bass player Brent McClellan. The riffs are heavy, crushing, powerful, and are some of the catchiest I've heard from this guys. The clear and expressive vocal style of guitarist Chuck Brown adds an epic touch to the song, but otherwise it has a wonderfully filthy sound.
Furthermore, with regard to the songwriting qualities, I must point out that APOSTLE OF SOLITUDE have their shit together. They write great hooks and have a keen sense for interesting arrangements. This is a very good track and I'm glad that it has seen the light of day. Then comes Portugal's DAWNRIDER who never made no secret of their love for Maryland styled doom. They have carved their own sound out of their influences, which resulted in two excellent albums. 'Under The Spell' is the name of their track and I was a little bit irritated at the beginning, because vocalist F.J. Dias sounds less aggressive than before. But also in other areas some changes have been made. DAWNRIDER goes slightly towards an epic direction and 'Under The Spell' has only little in common with heavy doom-driven rock 'n' roll. I really like that song, but I have to say also, however, that I've heard better material from this band. Nevertheless, DAWNRIDER still have more to offer than your next stereotypical doom band. Altogether, this is a great collectors item which is strictly limited to 500 copies only. The cooperation between Blood & Iron Records, Metal Soldiers and Raging Planet Records was really successful, not only because of the tasteful design of the etched 180 gram vinyl.
(KK)
www.metalsoldiersrecords.webs.com