AMBER (Pearls Of Amber) CD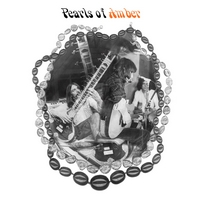 Without the press info, I would have thought that AMBER is a relatively new band, which clearly shows that 'Pearls Of Amber' still sounds fresh and is full of energy. However, the fact is that these recordings date from 1970/1971 and this is the remastered CD reissue on Merlins Nose Records, because up to now 'Pearls Of Amber' has only been released in 2000 in a small vinyl edition which is no longer available in stores and is out of print. Now you might be wondering who is AMBER. Well, it was an acoustic duo consisting of Julian McAllister (guitar, lead vocals) and Keith 'Mac' MacLeod (lead guitar, tabla, sitar, percussion), whereby MacLeod was also guitarist on Donovan's first tour. With this in mind, AMBER takes you on a peaceful journey through the soundscapes of folk, blues and psychedelica.
Tabla and sitar ensure an Indian flavour, and you really do get the feeling that you're sitting in a old VW bus on your way to Nepal. While listening to 'Pearls Of Amber', the legendary hippie trails come back to life and the daily routine fades into the background. This is mainly due to the fact that both musicians are doing an excellent job here. They give a heartfelt performance that persuades with its authenticity.
Actually, I am not the biggest fan of this kind of music (even though I love old blues, psychedelica and a bit of folk), but AMBER manage to enchant me because their music is dynamic, melancholic and intense. To my surprise, the second session on this CD has been produced by no other than Keith Relf who was the founder of The Yardbirds and one of the co-founders of Renaissance. It's really astonishing that AMBER did not record more material in the 1970's, because both were musicians of immense talent. This reissue will be completed with an informative booklet that includes photos, lyrics and informative liner notes written by Mac MacLeod. So, light the incense, and enjoy!
(KK)